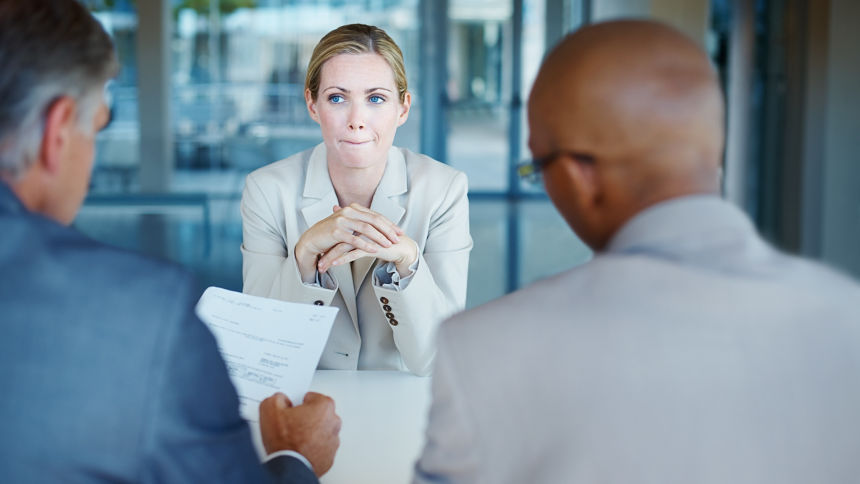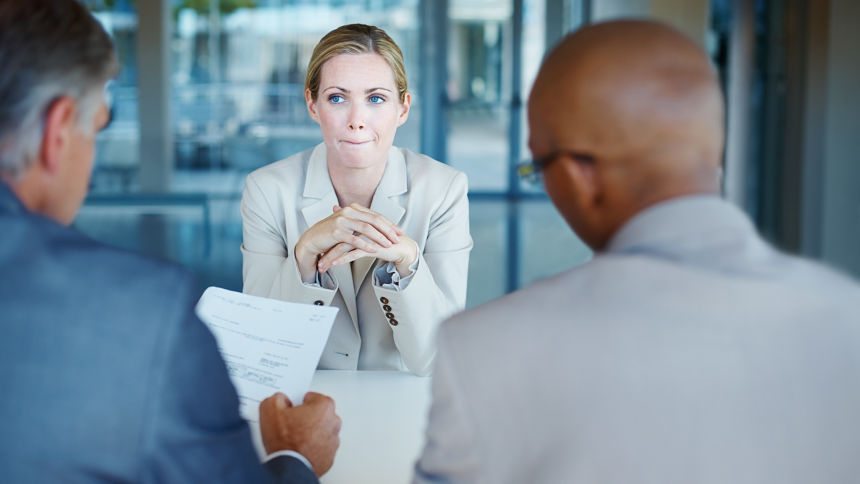 You've thoroughly prepped for your interview by researching the company and hiring manager. You've reviewed how to answer tricky questions. You've even got a handle on what to do after your job interview.
But just as important as what you do say and ask at an interview is what you don't—phrases, topics and questions to avoid at all costs if want to move to the next level, and ultimately get the offer.
Before your next interview, give a read to the following of verboten subjects. You'll up your chances of winning the job—and decrease your likelihood of blowing your chances over an ill-considered choice of words.
1. Industry Fluff
When you walk into your interview, the hiring manager is going to expect you to have a solid grasp of your industry, not just a fundamental understanding.
When a candidate talks about how big social media is, or how much it's changed the world, it ends up sounding like fluff, says Jodie Cook, managing director of JC Social Media Limited. "We already know social media is huge," says Cook. "That's why they're here being interviewed for a job within the field."
Cook suggests citing specific examples of when something's been done really well, or not really well, and your thoughts on how it could be done better.  
2. Negativity About Past Managers
No matter what you endured at your previous job, there is never a good reason to talk about a previous manager in a negative light—especially in the small word of digital media.
"[D]iscussing your previous job in a negative light shows a lack of forethought that could distract from how great of a candidate you are otherwise," says Juhea Kim, editor in chief of pulsd and co-founder of the healthy living site Peaceful Dumpling.
A good rule of thumb: Focus on the role and not the people.
"When you have left a job for a negative reason," says Amanda McLernon, director of digital strategy at the Bauserman Group, a Reno-based agency, "it is best to focus on the responsibilities of the job, the role, and perhaps the absence of a career path in the company because those things are not personal and show that you care about your position and goals."
Want even more help on your interview preparation? The counselors with Mediabistro's
Career Services
can help you refine your interview skills in a one-on-one session.
3. Uncertain Career Goals
When a candidate says, "I'm not really sure where I want my career to go next," a hiring manager hears an alarm.
While you don't need to have your 5- or 10-year careers goals set in stone, you should be able to express an idea of what you want to do for the next two years, says McLernon.
"I'd like to make sure you want to be in this industry and won't be hating your life every day at work," says McLernon, "If you hate your life at the office, I know you won't be the productive, valuable employee I need you to be."
4. A Sole Focus on Big Brands
If you're interviewing for any sort of creative role, you should be ready to talk about your favorite campaigns.
And if you're prepared to talk about, say, Oreo's 'dunk in the dark' tweet, Cook advises candidates to think smaller. "I want to know a candidate understands building a brand from scratch using social media is a whole different ball game," says Cook.
Ditch the conversation on the million-dollar ad and opt for a smaller brand's work, discussing how they became big through digital, "not necessarily because of budget but because of creativity," says Cook.
5. Vacation Time
Many startups and digital media companies are gaining reputations as office-perk-friendly spaces, but asking about perks at your first interview may raise some red flags.
"It's not that we want to hire people who plug away at work like robots," says Kim. "Clearly, we want employees who are balanced, well-rounded, and happy. But we also want people who understand that digital media isn't all fun and games, and lavish startup perks."
For Alex Twersky, career expert and Mediabistro's own resume and cover letter writer, it's simply a matter of timing. "First, dazzle them enough that they want to hire you," says Twersky. "Then, when the desire on the employer's part to have you as part of their team is clear, ask them pertinent questions about benefits."
6. Lack of a Skill
In a world where learning a new skill is ridiculously within reach, there is no good reason to go into an interview without at least taking a quick online crash course in a required skill that's listed in the job description.  
"Hiring managers are interested in people who can hit the ground running, so don't give them any reason to rule you out," says Kim. "And be ready to give yourself a crash course in anything you don't know—before your start date."  
Rather than admitting you don't know the skill but you're excited to learn, be able to say with confidence that you've taken a course and are excited to apply what you learned. 
7. Industry Buzzwords
In digital media, they're everywhere: Clickability, ideation, agile marketing…"delightion". Even though these words seem common tongue, it's best to avoid them at an interview. Kim says hiring managers do understand how it can be tough to avoid industry cliches, but she reminds candidates to be authentic.
After all, hiring managers aren't looking for someone who can repeat common phrases, rather, they're looking for people who can bring real, thoughtful ideas to their business.
See if you can identify where you're using jargon and do your research so you can actually talk about those topics, rather than gloss over them with catch phrases.
8. Desperation
While it's necessary to show your enthusiasm for the job, saying that you'll take any opening can do more damage than good.
"Seeming desperate works against you every time," says Twersky. "No employer wants to hire someone who is willing to accept any suitor. They want someone who is in demand, or at least perceived to be so."
Rather than falling into the over-eager candidate trap, Twersky suggests you project a confident, relaxed and focused energy that shows you're interested not just in any job, but the right one for you.
Looking for more interview pitfalls to avoid? Maybe it's time you schedule your session with Mediabistro's career counselor. Whether you're looking to build your perfect elevator speech, or refine your interview skills, our media career pros are here to make you shine.