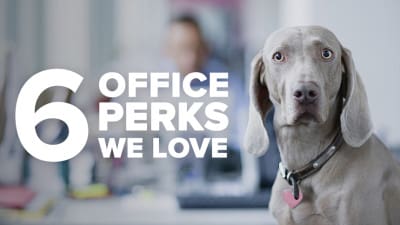 This Valentine's Day, we're swiping right on something very close to our hearts: office perks. From dog-friendly spaces to happy hour Fridays, we're aiming cupid's arrow at the best perks from some of today's top companies. So go on, read your heart out.
1. Unlimited Vacation Time
If anything should make your heart skip a beat, it's this perk.
Unlimited vacation time means you're free to travel the world…when you can actually get away from your deadlines. Truth is, companies are finding most employees are taking roughly the same amount of days off as with a traditional time off policy. Still, unlimited just sounds amazing.
A few companies currently offering this perk: Netflix, Hubspot and PaperG.
2. Free Stuff
If you're anything like, well, everybody, chances are you love free stuff. Besides having a free on-site gym, free snacks, free health, dental and vision benefits, Birchbox also gives employees a 20% discount plus $200 a year towards the purchase of anything in their shop.
Another company with freebies is Airbnb, which offers employees an annual travel credit to see the world and Airbnb-it-up wherever they please.
And then there's Pulsd, an online resource for events and promotions throughout NYC that lets employees take advantage of offers on their site, free of charge.
3. Pet Friendliness
Who doesn't love having a dog—or multiple dogs—at the office? Not only do pets in the workplace help relieve stress, they also force you to take breaks. ("Sorry Jeff, I wish I could meet to talk about those TPS reports, but I've got to take Ruffy for a walk.")
If you're looking to bring your furry friend to work on the daily, check out SmartRecruiters, a company that's teaching an old dog new tricks (heyo!) by disrupting the hiring industry.
Other companies offering this dog-friendly perk include Etsy, Zynga, Killer Visual Strategies and Mashable.
4. Drinks on the House
It's 5 o'clock somewhere, right? After a long, tiring day of being creative and thought-provoking, sometimes the best cure is a happy hour drink. And if you enjoy the occasional whiskey or beer, then is this the perk for you.
Dropbox, the file sharing and storage giant, ends each week with Whiskey Friday. The Penny Hoarder, a blog about weird ways to earn and save money, has a beer fridge (is there any other kind of fridge?) and on-site shuffleboard.
And the digital consulting firm Omnigon caps off every Thursday with a happy hour at the company bar where employees can sing their hearts out to their favorite songs hosted by their company DJ. (Cue record scratch: Say what?!)
5. A Little Shuteye
Ever just want to curl up in a ball under your desk and take a nap? (No? Yeah, me neither.)
But for those who do get that all-too-common 3 p.m. slump, Hootsuite has the perk for you: nap rooms. Decked out with cots and dim lighting, their cabin-themed nap room gives employees the freedom to take a quick rest and recharge.
Hootsuite's not the only nap-friendly office around; companies such as Uber and Ben and Jerry's also offer snooze rooms.
6. A Workout
These days, we're all trying to be more active at work. So it makes sense that Clif Bar, a company built on the principle of health and wellness, would have a full-service on-site gym complete with rock wall.
And it doesn't stop there: Clif Bar employees receive access to group fitness classes, a personal trainer, massage therapist, acupuncturist and a chiropractor. (Hopefully not all at once.)
Also check out Stransberry Research: This Baltimore-based publisher offers employees 24-hour access to their on-site gym and weekly trainer-led workout sessions.
Other companies offering similar perks are General Electric, Twitter and Zappos.
Want to get in with a company like one of these? Check out Mediabistro's job board, because top companies with top perks are hiring right now.