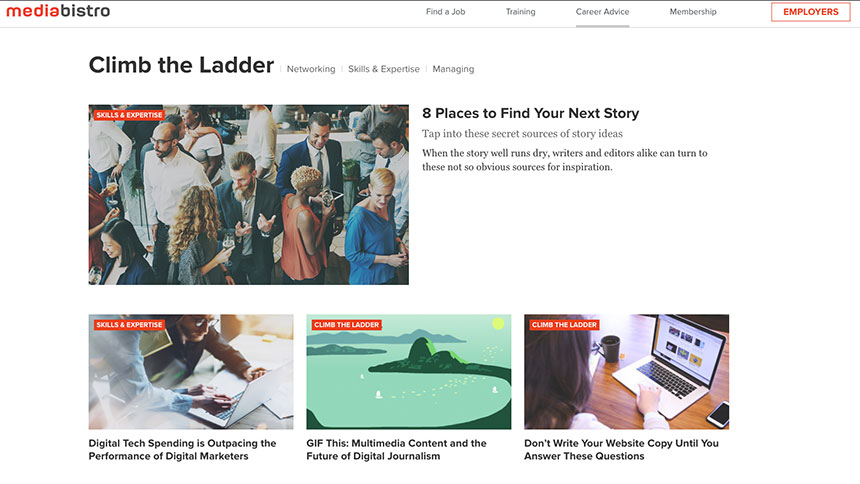 Monthly Unique Visitors: 220K+
Updated: Bi-weekly
Background: Geared towards developing careers in media-focused roles, Mediabistro offers something for every stage of an individual's professional journey. Whether just starting out or looking to find the next opportunity, visitors to mediabistro.com can find job listings, online courses for today's most sought-after skills, articles helping digital media job-seekers find opportunities and grow their careers, and expert career services from resume evaluations and rewrites to interview prep and one-on-one coaching.
Founded in 1996 by Laurel Touby as "a gathering place for professionals in journalism, publishing and other media-related industries in New York City," Mediabistro has grown into a valuable resource for media professionals across the US.
"Many people remember Mediabistro as the best place to find writing, publishing and freelance gigs, as well as being the go-to source for daily industry news, gossip and career moves. While we're still the best place to find traditional media jobs, the digital world has certainly caused us to broaden the definition of 'media' to include marketing, PR, sales and visual content," says Leah Paul, Mediabistro's director of marketing.
"Being a 'media professional' today requires making sure you learn how to use every new tool and tactic that will help you get better at your job. So we chose to move away from the industry news content in order to focus on helping digital media professionals find work, improve their careers, gain skills and excel at their jobs."
What to pitch: Editors at Mediabistro are looking for pitches that provide actionable, tangible value to readers. Before pitching, ask yourself, "In what ways will this information help a job-seeker get closer to landing a gig, or advance in their career?"
Pitches about resume and cover letter tips are great, but here, the challenge is making the content hyper-relevant for media and digital roles, as well as having a unique angle that hasn't been covered ad nauseam in other publications. If your pitch includes how the story can be repurposed into shareable assets like infographics, slideshows or videos, it will certainly grab the editor's attention.
The editors are also interested in stories about professional development and the skills needed to be a well-rounded, highly marketable media professional. In today's world of hybrid roles and demand for T-shaped expertise, it's more important than ever for writers to have marketing skills, marketers to have writing skills and everybody needs to understand SEO, social media and analytics.
Let's not forget about the ability to use a variety of creative applications, web-based platforms or just general tech literacy. Pitching an explainer, how-to or case study that can teach a trending skill to the Mediabistro audience will certainly get noticed. Even better if it's a topic that can be tied to a Mediabistro course.
Stories about teams or individuals who are finding success in their careers, or breaking new ground, are very popular with the Mediabistro audience. Everybody loves a good Q&A that provides advice or career inspiration.
Finally, the Recruit and Hire section features articles geared towards employers, recruiters and hiring managers. Mediabistro is always looking for pitches with an interesting perspective on recruiting, retaining and managing media roles and teams.
What publicists should pitch: Publicists are encouraged to pitch information about media professionals who can offer solid advice to Mediabistro's audience. If the pitch covers finding a job or excelling in the field, the editors may be interested.
If you're a publicist representing a magazine or digital publication that accepts freelance stories, Mediabistro is always looking for more publications to add to the How to Pitch section.
Etiquette: Email the editor listed below with a concise query and links to clips. Another way to boost your chances of hearing back are to list the skills or value the reader will take away from your article ("Shows readers how to craft a unique LinkedIn summary").
Lead time: Varies depending on the type of story being proposed and whether it has a time-sensitive element.
Pay rate: From $75-$150 per post
Payment schedule: Invoice upon editor's acceptance of completed draft
Kill fee: None
Contact Info:
Mediabistro Holdings, LLC
825 8th Avenue, 29th Floor
New York, NY 10019
mediabistro.com
Twitter handle: @Mediabistro | Facebook
Direct pitches to:
EDITORS AT MEDIABISTRO.COM