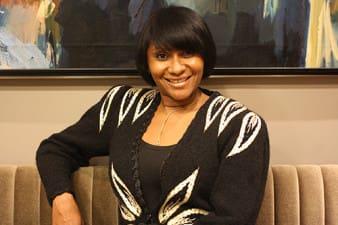 If you were a black girl in the late 1990s threading together the elements of a fabulous life, you undoubtedly read Honey. If you were a black girl in the late 1990s who aspired to feed yourself and your future family as a journalist, you undoubtedly cherished Honey. You also admired its founder, Kierna Mayo.
Even if you didn't know her by name, you knew her work and you certainly traipsed the pathway she laid as not only the creator of your favorite magazine, but also a writer who offered herself up as a mouthpiece for the interests of young, hip-hop-generation of black women.
Establishing herself as an editorial badass early on propelled Mayo into an enviable career that has led to her current position as the team-leading visionary for the polished and redesigned Ebony.com. It's a full-circle promenade from publishing her own title to breathing new life into the digital presence of one of the oldest in African Americana.
"Being at Ebony.com has been a real reminder for me because, in many ways, it was a startup," she says. "So the kind of passion and determination that went into creating Honey went into creating Ebony.com." Here, the editorial triple threat, who's in the process of penning a novel, talks trolls, hip-hop and creating content for the people.
---
Name: Kierna Mayo
Position: Editorial in Chief/VP, Digital Content, for Ebony.com
Resume: One of the first female editors at then-startup hip-hop magazine The Source; penned first-gen hip-hop feminist articles pushing women's interests and perspectives. Continued that work as co-founder and founding editor-in-chief of Honey. Recruited by Susan Taylor to oversee direction of Essence Girl, a magazine supplement for African-American tweens and teens. Served as senior editor of CosmoGirl, then online editor at Cafemom.com. Became editorial director of Tyra.com, an online women's magazine for Tyra Banks' Bankable Enterprises. Leader of editorial team at Ebony.com, where she was recruited to envision and execute its redesign and increased traffic by over 500 percent. Site won GLAAD Award for Outstanding Digital Journalism and was a finalist for The Best of the Web Min Award in 2013. Contributed to several books, including And It Don't Stop: The Best American Hip-Hop Journalism of the Last 25 Years. In early 2015, became EIC/VP, Digital Content for Ebony.com.
Birthday: Feb. 6, 1970
Hometown: Brooklyn, N.Y.
Education: BA in mass media arts from Hampton University
Marital status: Married
Media mentor: Susan Taylor
Favorite TV show: House of Lies
Guilty pleasure: Playing with WWE action figures with her son
Last book read: Redefining Realness by Janet Mock, which Mayo says "is a truly remarkable memoir."
Twitter handle: @kiernamayo
---
Creating and re-imagining websites seems to have become a sweet spot for you. What sensibilities did you bring over from magazines to the online world?
I brought my entire skill set, including my intuitive sense about audience and visual impact. Those are very important magazine skills when you're a packager — someone in charge of cover lines or selecting the strongest image. I did have to unlearn this notion of a three-month window to create, develop and refine. The three-month window can become a three-minute window online.
I often encourage peers who've made careers in the print world not to be intimidated by the crossover to digital. I feel like I deal in the alternate universe with magazine purists on one side who are conditioned to holding their bylines in their hand as opposed to clicking on them. Those are my 38-and-up friends. All of my 37-and-under friends understand and respect this new media. I try to get young writers who've been able to make a way for themselves online to understand and respect the work that goes into the process of creating magazines.
They aren't used to having rounds of revisions or three editors on their stories. They're much more used to blog-style writing, which is I write it, I publish it, you react. That has its place. But the meticulous nature of creating a magazine is also a very valuable thing to understand. If you're an online writer and you have the opportunity to have a quality edit or revision happen to your work, don't be offended. Take advantage of that.
You were a finalist for the 'MIN Best of the Web 2013' awards in the Digital Magazine category and received an honorable mention. What were the key changes you made in content to boost traffic?
First of all, it's hard to talk about Ebony.com in any 'I' sort of way. It really has taken everyone on board to bring it to where it is. Quite frankly, when I came to the table, the site felt and operated more like an afterthought as opposed to a key component of the editorial output of Johnson Publishing.
When Ebony.com became a corporate priority, a new design team was brought in, and I was called to reimagine it from the bottom up. At the time, I recall really being moved by The Daily Beast and brands that were utilizing big, heavy type as a means to grab attention. One visually striking component about tabloids is that headlines and images are big. I thought if we could find a way to integrate the beauty of the Ebony print redesign with what we were trying to do, you could feel the connection between the magazine and the website.
How do you create a balance between original reporting, blogs and aggregated news?
We're never looking for 50/50 of anything. We're looking for the best original content. That's the driver because we respect our audience. We know that we're charged with reaching many types of black people: both men and women, 20-somethings and 40-somethings, upwardly mobile and blue collar. The gamut and diversity in black America demands the stories meet people where they are and by that mandate alone, we have to search ourselves to distill and determine the best editorial direction on a daily basis.
That said, we have a section on the site called 'Blacklisted,' and it's a list of the 10 most interesting stories that we can aggregate. Outside of that, everything is original. We publish [from] 20 to 30 pieces of content a day, so it's quite an undertaking photographically and editorially.
There's never too much of one thing, but there's always just enough of everything. If you're into black weddings, we've got weddings for you. If you're into gossip, we have that. If you're into news and views, we have any number of op-eds and original reported stories and exclusives every day. So as an editor, it doesn't get old.
How do you decide which sites to aggregate news and information from and with whom to partner?
They're not partnerships necessarily. We can aggregate from the smallest blogger to The Washington Post. We're not really particular except that it has to be well reported and we have to appreciate your take. When we aggregate, we always throw back. We don't take people's stories in their entirety.
If you want to read the whole story, you'll have to go back to the original site. We see this as a partnership of sorts, even though it's not formal. And as you grow traffic for other sites by way of how you aggregate their content, they often do the same for you.
The New Yorker ran a story on the psychology of online comments. Do you think trolls compromise or weaken journalists' storytelling?
Yes, I do. Trolls are a drag. They, first of all, and probably most importantly, divert the healthy conversation, dialogue and constructive criticism. The potential for people to be heard gets eclipsed by trolls and that, of course, is their intention. On the other hand, I think savvy online editors recognize that there's only so much intimidation you can deal with.
For example, all of our Trayvon Martin coverage was trolled. Just vitriol, incredibly painful, racist commentary. That said, nothing was going to stop us from finding the best take on all Trayvon Martin-related news and information. You just kind of have to exist in the world with them, keep your content above the fray and encourage your audience not to be intimidated because the brilliant ideas and thoughts that come out in community often inform editorial decisions.
You can learn something by way of the dialogue that happens on your pages. But I would be remiss if I wasn't truthful about the fact that you think about how people respond to things as you create. I try not to let that kind of negative energy or intention take us off our path. There have been personal attacks on virtually all of us on the site. It's part of the job. The democracy that digital media offers all of us comes with some really damning qualities.
In your 22 years of being a journalist and a writer, what story encompasses your legacy?
The story that changed my life is the story I worked on with a woman named Janet Mock. I wrote it two years ago for Marie Claire. It's not even the best story I've ever written, but it's the most impactful. Janet is a transgendered woman who trusted me enough with her personal truth to come out to the world by way of the piece that I did. It forced me to have a new set of eyes because of the vulnerability that she was willing to display when she didn't have to tell a soul.
This is a person who, at the time, was an editor at People.com. Most people didn't know her story. Her bravery was so humbling that I really had to check myself around fear and ask myself some questions about how I've let it hold me back. Here I was dealing with someone whose entire life was about to change forever and she was trusting me. It was a radical experience.
The other thing was the specifics of the story. I had never had a person tell me about what it feels like to have gender-reassignment surgery. I had never been sitting on the couch with someone who invited me into their home and showed me pictures of them as a child of a different gender. Like so many people, my stereotypes, assumptions and humanity were challenged.
Janet, in the last two years, has gone on to become a very outspoken role model and spokesperson for her transgender community. She's so beautiful inside and out, most people who encounter her post coming out are floored by it all and changed as well. I take personal joy in my role in that.
This interview has been edited for length and clarity.