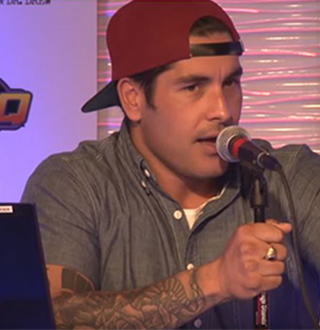 Mike Catherwood's years of hard work and refining his craft paid off on January 28, 2011.
That's when the 32-year-old filled in for Regis Philbin on Live! with Regis and Kelly after he was selected as part of the show's "Men of Radio Co-Host for a Day" contest. The former Kevin & Bean (KROQ-FM 106.7) producer and Loveline host had a local presence in Southern California, but Catherwood's stock shot through the roof after spending an hour next to Kelly Ripa. He was immediately booked as the unknown heartthrob on ABC's Dancing with the Stars, quite the accomplishment if you knew Catherwood's past.
Five nights a week on Loveline, you can hear Catherwood speak openly about his battles with alcohol and substance abuse and the steps he took to overcome them. If you can snort it, Catherwood likely tried it during his rebellious years as a teen. It wasn't until 2002 when he was treated at Las Encinas Hospital that he managed to turn his life around and met Dr. Drew Pinsky in the process. Fast-forward to today and Catherwood works alongside the man who helped him with his recovery.
What a difference 10 years makes.
---
Name: Mike Catherwood
Position: Host of Loveline
Resume: Started as a van driver and promotions assistant at KROQ-FM in 2002. Named production assistant for the station's Kevin & Bean show a year later. In 2005, was promoted to the Kevin & Bean on-air crew, handling mostly comedy bits and parody songs. Hired as host of Loveline in March 2010.
Birthday: March 15, 1979
Hometown: Pasadena, Calif.
Education: San Marino High School
Marital status: Divorced
Media Idol: Past: Rod Serling or The Smothers Brothers. Present: Albert Brooks or Howard Stern
Favorite TV show: Mad Men
Guilty pleasure: Us Weekly
Last book read: On the Road by Jack Kerouac
Twitter handle: @mikecatherwood
---
Nine years ago, you were working as a promotions assistant at KROQ. Now, you're the co-host of a nationally syndicated radio show and a budding TV personality. Did you ever in your wildest dreams imagine this would happen?
Not like this, no. I honestly thought if I were lucky, I would get a really good construction gig or become a fireman, in my wildest dreams. I'm not a studied guy… I'm not an educated guy. I never really imagined I would do anything outside blue-collar stuff.
I always thought I was going to be a rock star, but when I turned 20, that dream started to break up and wither away.
Once I got a job at KROQ though, I almost with a weird sense of certainty knew I was going to eventually get on the air. I knew once I could write a couple of parody songs or prank call Kevin & Bean enough, they would just put me on the air.
As a 32-year-old guy now, I look back at it now and it was such an immature notion to be that certain, but that's the way I felt.
You're very open about your history of substance abuse and eventual road to sobriety. How have your personal struggles helped you with hosting Loveline?
It's crucial for me because I don't have any other credentials. Who am I to give advice to anybody on anything? I've never been good at relationships — I'm divorced. As for other facets of life, I haven't been that successful.
When it comes to a 17-year-old kid that struggles with booze and drugs, I can definitely talk to him with a level of credibility. Without that, I would have no reason even giving advice.
I feel like that's a key part of what I do on the air, because outside of that I'm nothing but fart jokes.
When was the last time you were placed in a situation where your sobriety was in jeopardy?
It's been recent. It's funny because it has nothing to do with people using or drinking around me. Lord knows working at KROQ you're exposed to it a lot. It's the times when I'll be alone and you kind of let your thoughts get the best of you. For me and a lot of addicts, idle hands are deadly.
That's been the toughest times to deal with when something will happen that's unfortunately depressing. Whether it be divorce, family trouble, professional problems… instead of dealing with it in a healthy way, I'll sit and I'll reflect on it, and that's what drives me to have these strange urges.
By the grace of God, I've become smart enough to handle those urges in a proper way, talk to my sponsors, go to meetings, things like that.
How has your professional career changed since last January when you filled in for Regis Philbin on Live! with Regis and Kelly?
It's been insane. I've been lucky enough to have way more success in the radio industry than I could ever dream of. But the radio industry is an incredibly anonymous industry. When you all of a sudden put your face out there on such a visible stage as the Regis and Kelly show, it was crazy to see people's reactions.
Instantaneously, I signed with a big agency, I got Dancing with the Stars, and that's when everything started snowballing. That's when things, at least professionally, started to drastically change. It was all due to that weird contest that I didn't even enter. I had no idea I was even entered in it.
So, who entered you and why?
It was done by the listeners. I have no clue who actually nominated me first.
You were the first contestant eliminated from Dancing with the Stars last year. How did you let Wendy Williams out-dance you?
I don't think I did. I don't think I let Wendy Williams out-dance me. I will say, she's incredibly popular and successful, and that show is not a straightforward dancing competition. It's a popularity contest and she has a much bigger fan base than I do.
Rightfully so, she's worked for it. So that was kind of the deal. As far as my actual moves out there, I don't think I let Wendy Williams out-dance me in any fashion.
Do you have a preference between radio and television?
There are ups and downs to both. The intimacy you develop with your fan base in radio … there's nothing you can compare to that.
You could be on the most popular television show in the world, but if you're on a show like Kevin & Bean, which I was lucky enough to grow up on really, the listeners are like your buddies. They drive to work with you every day. They know every intimate detail in your life, the ins and outs of it. There's no TV show like that.
It's totally unfiltered. You don't have four or five producers trying to manipulate what you say and how you say it, which you do in TV. The immediacy and the genuine nature of radio is what I love about it.
You could be on the world's smallest TV show on the back of the dial, and people are 'Mr. Catherwood this' and 'Mr. Catherwood that.' You get Craft Services and they treat you like a king. I think the kind of immediate gratification that comes along with success in TV is what I like about it.
If you're a TV guy, people kiss your ass. You could be the stallions of all stallions in radio, and you're still just another dude.
Radio is like a blue-collar gig. There are plenty of guys that are good at it that 10 years ago were swinging hammers or teaching schools.
Most people — not all — in TV, since 8 years old, have wanted to become a TV personality.
During your time on the Kevin & Bean show, you were known for your celebrity impersonations. Was there a specific celebrity that didn't see the humor in your impersonation?
Tom DeLonge from Blink 182. He was not a fan. Like Gene Simmons, he likes when I do Gene Simmons for him, but he said I owed him money, which is very Gene. He said I owed him some kind of stipend for pretending to be him.
But Tom DeLonge was not happy. I don't think he was mad at me; he truly doesn't think his voice is that whiny and nasally.
You made a pledge to only buy domestic goods in 2012. What's your motivation behind this project?
It's dumb to say I felt guilty, but the economy has never been worse, probably not in recent history. Unemployment rates, especially in [California], are out of control. Right at that same time, I've never been more financially sound than I have been in my entire life.
I don't want to say guilt, but I'm so overwhelmingly grateful that I'm comfortable at a time when more people than ever aren't comfortable.
I started really looking at all the products you see at these big chain stores and everything we buy on a day-to-day basis, and it's all manufactured outside the U.S. If I can hopefully inspire other people to follow in my footsteps, I think we could make some kind of progress in getting more jobs, getting more money into our gross domestic product.
And if I can celebrate and promote these companies that, in this time of massive outsourcing, still remain faithful to the idea of giving American jobs, that's really the main goal.
What do you think has been the one key to your success?
I guess work ethic and professional humility have been my real strengths. By professional humility, I mean I was never too proud or above any work. When I was trying to really build my career I would carry sound equipment, edit commercials, load DATs [digital audio tapes] and CD's or anything else anybody needed me to do.
Just because you want to be Johnny Carson, doesn't mean you ARE Johnny Carson. I'm not the most talented or creative guy out there but I've earned my stripes. I think that might be something newer generations don't understand because of social networks and YouTube.
This interview has been edited for length and clarity.