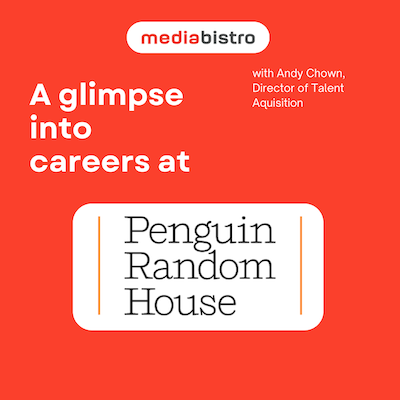 There are many careers to choose from in the book publishing world, and Penguin Random House is a place with ample opportunities. We sat down with Andy Chown, Director of Talent Acquisition, to discuss what his team looks for when reviewing candidates.
1. What kind of background and qualifications are you and your team typically looking for when looking at candidates for Penguin Random House jobs?
It depends on a couple of things: one, the job level, and two, the job function. What I mean by that is, for example, there's a difference in what we're looking for if we're hiring for editorial versus IT. Also, the desirable background and qualifications for more entry-level roles have adjusted. We don't want to be missing out on amazing, creative talent, even if they may not have the standard qualifications. We tend to look for skills rather than qualifications. For example, if you are going into any of our entry-level jobs, attention to detail is really key. Particularly if you think about our product, we want to make sure that with anyone within this position has great attention to detail.
Teamwork is also an important factor—and being able to demonstrate that. The ability to self-manage is important. If the last two years have taught us anything, it's that one needs to be able to manage their own workload within a remote-based environment. But ultimately, we look at the skills you need to complete tasks within the realms of your job.
2. For those who are new to book publishing, can you speak to the different roles and departments within Penguin Random House?
There are so many different opportunities! There's the publishing side and the corporate side. What I mean by the corporate side are the HR, Finance, Legal, Tech, Corporate Communications teams, among other departments. Then you have the publishing side, which is the more creative side—the one involved with getting the manuscript of a book into a reader's hands (or ears!).
The editorial department oversees the acquisition and development of a book collaborating with the author to create a finished story. Managing editorial is responsible for the process of getting the book through the individual stages—from the manuscript through all the varying departments and managing the timeline. Publicity creates excitement around new books and new authors. Design is also a crucial department. The irony of not judging a book by its cover is that we have a lot of people who are dedicated to building beautiful books and covers. Sales is another important department at Penguin Random House, as they directly connect retailers (like your local independent bookstores) with our authors' books so they can be available in stores. Those are just some of our teams and departments. There's such a wide range of opportunities.
Once you start in publishing, you'll quickly experience just how many opportunities there are. As a business, we often promote from within, so people sometimes end up in different departments from the ones they started in.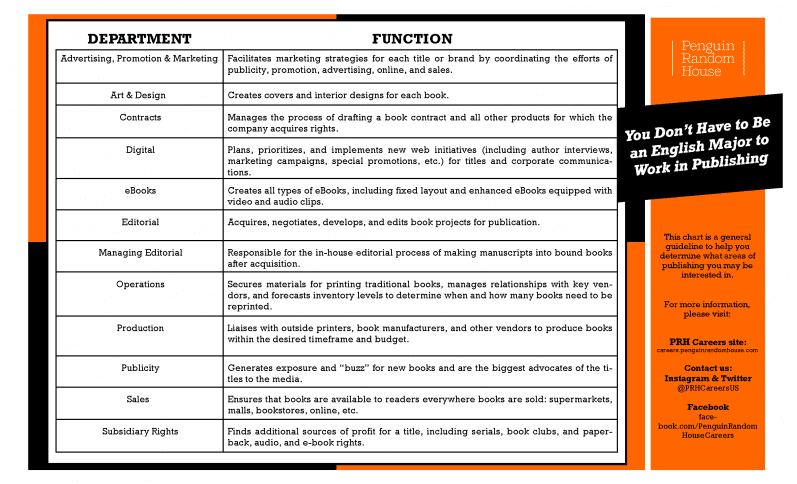 3. Do you encourage people who are new to publishing to apply for your jobs?
It depends on the role. The higher up you get, the more relevant the experience must be. For entry-level jobs, you don't need publishing experience. Will it help? Of course, as in any role.
One of the things we're trying to identify [when hiring] is the exact skills we're looking for. Rather than looking for specific types of experience, we want to look for the skills that suggest a candidate is a good fit. As a result, we're also adjusting our interview process. We're asking how one's skills could equate to a position in the publishing sphere.
We've added a new team, our Campus Partnership and Outreach team, to go and identify people who maybe haven't considered publishing before. It really depends on the role and comes back to what the skills are that we're looking for.
4. Say someone applied for a PRH job through our job board and landed an interview. Can you share your top interview tips?
Do your research. The main thing I'd encourage a prospective candidate to do is familiarize themselves with the job description. If you really understand the relevant parts of the job and you know what your background is, try and link that as much as possible to the role. Research shouldn't be just limited to the company.
Also, familiarize yourself with your own resume and refer to it. It's not just a ticket to get in the door—it's your best sales tool throughout the whole process. When you're interviewing, you can point to relevant experiences on your resume that can address from the questions you're asked. The more specific you can make your answer, the higher chance you'll have at taking that opportunity to showcase your skills.
5. What's your favorite thing about working for Penguin Random House?
Books have always been a release for me. I've always loved reading. Even before I started working here, if a book had the Penguin logo on it, I knew I'd like it. Knowing that I'm heading up the talent acquisition team for that same company is surreal and I have to pinch myself sometimes.
From a professional standpoint, it's the fact that we have careers for life. Numerous people on my team have been here for a long time. There are many opportunities to try new things—and knowing that one has career expansion across many different areas is really motivating and encouraging.
Apply to jobs at Penguin Random House on our job board today.