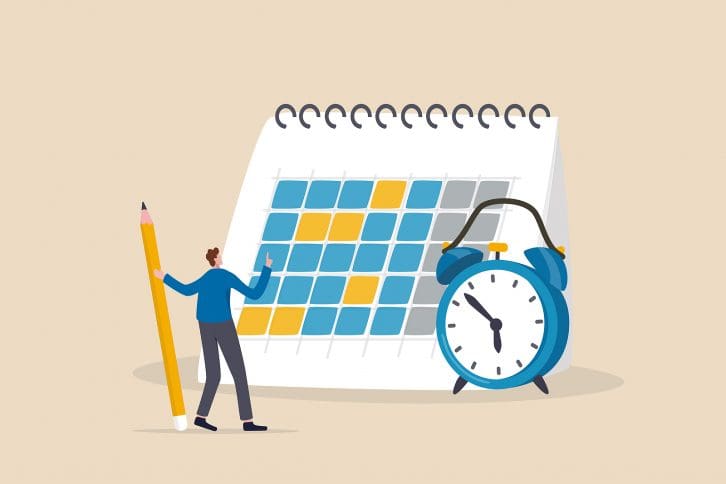 There are few greater blessings than the ability to earn a living doing what you love. For creative professionals, though, cultivating a lucrative and fulfilling career isn't always easy. When building a creative career, you must strike the right balance between professionalism and inspiration. You have to find a way to approach your work as a job and self-expression. The good news, though, is that there are things you can do each day to help you find the delicate balance you need to thrive, both professionally and artistically. Here are some strategies you can use to build a daily routine that will help you prepare for your job search.
Creating the Perfect Physical Space
No matter your particular creative field, one of the first and most important things you can do as you prepare to launch your career is to create a physical space that promotes excellence. The right space can not only help you find the inspiration you need to be creatively productive each day, but it can also help to reduce stress and anxiety, which is also essential for creators.
Indeed, there's a strong and immediate link between your physical environment and your mental health, so it's critical that you take care to create an ideal workspace. You will want to ensure, for example, that your space is inviting and well-appointed without being cluttered.
If your space is overflowing with stuff, or if it's so poorly organized that you can't find what you need when you need it, you're going to be both stressed and unmotivated. You might find yourself making excuses to avoid spending time in your workspace, which is also likely to mean you're finding excuses not to create.
On the other hand, if you have a workspace that is orderly and inviting, one that is a pleasure to spend time in, chances are you'll want to be there as much as you can. And when you're there, you're more likely to be creating.
The key here is to cultivate a space that inspires you. To be sure, you will want to equip it with everything you need to do your creative work, ensuring that your materials are well-organized and easy to access when you need them.
But in addition to these more utilitarian considerations, you'll also want to focus on the mental and spiritual aspects of the space. Create a dedicated work environment that makes you feel happy, safe, and inspired. Infuse it with objects that give you joy and comfort. Use a color palette that ignites your creativity. And outfit it with textures and lighting that set the perfect mood for your creative endeavors.
Building Self-care and Creative Rituals
The life of an artist is a life that is deeply rooted in newness, in innovation. But that doesn't mean that rituals and routines don't have their role. In fact, rituals can play a crucial role in the work of a creator, just as they often do in the lives of elite athletes.
From wearing a lucky sweatshirt when you're engaged in a creative project to scenting the room with a favorite fragrance at the start of your workday, rituals can be highly effective for creatives. There are many possible explanations for this: for instance, rituals can provide a sense of calm, control, and confidence, all of which are essential for getting those creative juices flowing.
In addition, engaging in rituals supports mindfulness. As you engage in this ritualistic behavior, you focus your energy and attention on the minute details of the ritual, helping you get into the zone for focused creative work.
But rituals relating to your work aren't the only ones that matter. It's also critical to cultivate self-care rituals in order to help you keep both healthy and inspired. Maintaining healthy self-care practices, though, takes commitment as you become habituated to the practice.
That's because true self-care is a holistic practice. It's about optimizing wellness in your body, mind, and spirit alike. And that means cultivating a healthy lifestyle that includes proper nutrition and hydration, quality sleep, preventative medical care, and mental health support.
For creative professionals, one of the most important, but also one of the most easily overlooked, aspects of self-care is emotional and social support. Working as an artist can be quite isolating. You may find yourself so engulfed in a project, especially if you're working on commission, that perhaps you go days or even weeks without seeing another person.
That isolation is both unhealthy and dangerous. It can contribute to mental and physical health challenges, as well as burnout, which may rob you of your creative spark as well. That's why it's vital to get out of your office or studio and seepeopleevery day. Take time to socialize with friends and family on a regular basis. Your health — and your work — will benefit.
Taking Inspiration From Other Creatives
As suggested above, the life of a creative professional can be quite isolating. Even when you are with friends and family, you may find yourself at a loss as to how to convey to them what your life and work are truly like.
But you're by no means alone. And if you want to find solace as well as inspiration, then look to other creators you admire. Learning about their experiences and their processes can be as instructive and motivating as learning about their work. You may find, for instance, that your favorite artist's daily routine was quite similar to your own.
Paying Attention to the Practical Aspects of Your Workflow
If you're striving to build a successful career around your creative work, then you will also need to pay attention to the more practical aspects of the job. After all, your work as a creator is an art form, yes, but it's also a business. And that means you have to treat it like a business from building your brand to soliciting new clients and commissions to growing existing relationships.
You will want, for example, to ensure that you routinely update your creative professional resume and work portfolio. Online portfolios and digital resumes are the perfect way to highlight your experience and showcase your best work.
As a creative professional, the burden of drumming up business probably rests with you alone. And that means that you will always need to be hustling in some way. So make time to do a good bit of networking both online and in person.
Attend festivals, conferences, exhibitions, or anything even tangentially related to your work. Ensure that you have plenty of business cards with your current information, as well as the web address of your online portfolio.
In addition to maintaining a robust presence at in-person events, you can also unleash the tremendous power of the digital domain to grow your business. Social media is a superb tool for promoting your work and engaging with existing and prospective clients. You can, for instance, maintain an active presence across multiple social media platforms, particularly those most popular with your target market.
This means not only being active on your own pages but also engaging frequently on other pages. You never know who you will meet or whose interest you will draw through your engagement. And there's no shame in providing links to your pages, website, or online portfolio when you participate on another's social media pages, provided this isn't prohibited by the administrators.
Perhaps the most effective way to grow your business, though, is by subscribing to a range of credible job boards, especially those dedicated to creative work. Many of these job boards allow you to customize your search and to receive job alerts by email or text when a position is posted matching your criteria.
This way, you're able to get your resume and portfolio in front of clients who are looking for someone just like you. Perhaps even more importantly, you are able to keep your finger on the pulse of the market, identifying trends that can help you stay relevant, in demand, and inspired.
The Takeaway
The creative life is, for many, a dream life. But building a career as a creative professional takes work. It requires you to balance the artistic with the pragmatic, the inspirational with the professional. However, by embracing the daily routines that contribute to success as a creative professional, you can truly take your first and most important steps toward a long and lucrative career.