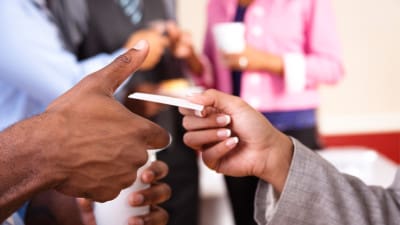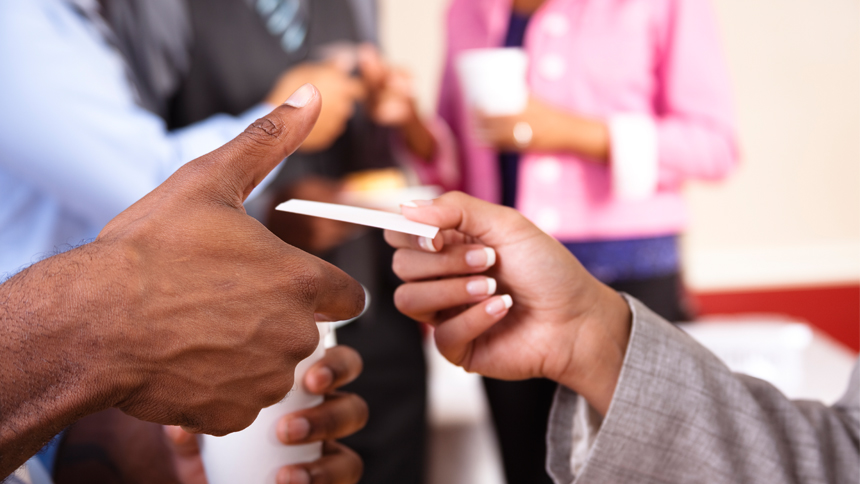 Experts agree that there's often no better way to make connections, pitch that story idea, land an agent or even find a new job than by face-to-face networking at conferences—but you can't just show up with a stack of resumes and business cards and expect to hit gold.
With a little planning and luck, though, you can make any conference you attend a super success.
Set Specific Goals
"It's important to know what you want to gain from a conference," says Melissa Fireman, a Washington, D.C.-based career counselor, and founder of Washington Career Services. "I know that sounds basic, but you have to be very specific about your goals. If networking is a goal, what specifically are you networking for?" Write down your goals, print out the schedule and attendee list ahead of time, and take the planning process seriously, Fireman says.
"You get out of conferences what you put into them," says Melanie Sheridan, who blogs at Mel, A Dramatic Mommy. On the other hand, she cautions: "Don't go with huge expectations in your mind, because you just don't know. A session could sound great on paper, but if it's got a bad moderator, you're going to say 'I wish I'd gone to that one instead.'"
Don't Be Shy
"Ostensibly, you're there for the panels, but you really want to connect with people. To find people of like mind, people you could partner with professionally, people who will be friends, people who could become mentors. They're all just right there, milling around you at every single moment," says Denise Jacobs, a Web consultant, speaker, author and self-proclaimed SXSW addict.
In fact, many conferences offer orientation sessions complete with conference-specific pointers about where to go, how to get around, and—at a blog conference—how to avoid having photos of you plastered on the 'Net.
Jacobs continues, "You can't be shy, but you don't really need to be aggressive" when meeting people. "Everybody is super open; the atmosphere is amazing. I've been in panels, when it was time for the audience to ask questions, I asked a question. And people would come up to me afterward and say, 'I just wanted to meet you because you sounded really cool.' It's very interesting; it's its own little world."
Get Networked
Reach out. A lot. "I would say shoot to meet five to 10 people a day" from your networking list, Fireman says. But as in any networking situation, your goal is to build rapport, not immediately land a new gig. Coming out of the gate with, "'Hi, I'm Melissa, and I want a job with you,'" says Fireman, will get this reply: "Well, so does everybody else in the room."
Instead of thrusting your card or resume in your contact's face, invite him or her for coffee, a drink or even lunch. Once you've got that initial connection, you can maintain it through email, social media or something else: "It's nice to bring some note cards with you and just write them a thank you note and leave it at their room for them," says Fireman.
And don't let those connections die after you get home. "I spent a day hanging out with a blogger I really admire" at BlogHer, says Sheridan. "Now we email back and forth, she's more active on Twitter. If you comment on each other's blogs, email, send a text every now and then… it's easy to maintain these relationships, if you work at it."
Budget Wisely
There are tons of ways to stretch your conference dollar, but choosing a distant hotel isn't one of them. Blogger Neerav Bhatt says it may seem cheaper at first to get a room at the bargain Motel Six instead of the hotel where the conference is taking place, but the time and money you'll spend on taxis will more than counteract any cost savings.
Plus, your back will be aching if you can't stop back in your room to drop off the laptop you decided you didn't really need that day or the swag you got in the exhibitors hall. Far better, suggests blogger Sheridan, is to just share a room with friends or coworkers.
Often, signing up to speak or present at the conference can be a money-saving tip, as your admission will likely be reduced or free. But beware: Depending on your topic and schedule, you may be too busy to actually network.
Do Your Own Thing
Last, don't feel like you "have" to go to a certain panel or event—feel free to conference hop, suggests Sheridan. And "if you get overwhelmed, go up to your room, take a nap, order some room service."
Besides, "there's this beautiful serendipity that happens" at a conference, says Jacobs. You'll meet people in the hall or elevator, not necessarily at an official event. So feel free to do your own thing and let the opportunities come to you.