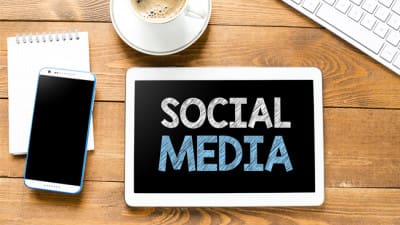 Whether you're a recent college grad looking for your first job or a seasoned professional looking for a new opportunity, social media is incredibly useful for job hunters.
Using social media to land a new job goes far beyond updating your LinkedIn job history and making sure those party photos aren't visible on Facebook. In addition to showing off your skills and experience in a personal way, social media can humanize the recruitment process for you and your potential employer.
"Social media allows me to share who I am—what kind of person I am, what my work ethics are, what my experience is—without sounding like a used-car salesman," says Erin Brenner, a veteran copy editor and founder of Right Touch Editing.
Lauren Gambler, an HR generalist at integrated digital agency Jellyfish, agrees: "Social media lets candidates stand out from early on in the process and gives recruiters a more holistic view of their capabilities and interests."
Follow these expert tips to get the most out of your job hunting with the help of social media:
Do your research.
Research is the essential foundation for your job search as it allows you to target the right companies in the right way, which can be the difference between success and failure.
"Do research on the company and see what you can do that plays into what they're already doing," says Michelle Nickolaisen, who has leveraged her social presence to get interviews and jobs with prestigious employers in Austin, Texas. When interviewing for a position with a social media monitoring company, she created a targeted video on YouTube and promoted it via Twitter.
Your job-hunting social campaign is going to be much more successful if you know which platforms are the most popular in your industry and how they are used. Even within industries, companies use social media in different ways.
For example, the PR team for Oscar de la Renta features photo previews of its upcoming collections and images of celebrities spotted wearing the line on Tumblr, while marketers at ModCloth repost its customers' Instagram photos. So if you were looking for a social media job at either Oscar de la Renta or ModCloth, you should be able to speak intelligently on each fashion company's strategy in your cover letter or during an interview.
"It's easy to tell the candidates who have done their research on us socially and adapt their approach accordingly," says Gambler. "It is definitely more likely to impress us."
Create your own strategy.
Once you have some solid research on your industry and even specific companies, it's time to create a strategy for connecting with companies and showing off your skills.
Creating a social strategy helps you target the most suitable people in the most appropriate way. This doesn't just save you time, which is vitally important if you're job hunting while already employed, but also makes it much more likely that you'll see the results you want.
Brenner advocated using a hub-and-spoke marketing model, in which all social activity leads back to a central hub.
For job hunters, this central hub might be your website, an About.me page or a LinkedIn profile. If you're a designer, you might even use Pinterest to share your work with potential employers. Your strategy can be as sophisticated as something based on a classic marketing model or as simple as a plan to send a certain number of industry-relevant tweets a week.
What you'll need is a clear idea of which platforms you are going to use, how you'll use them and what you want to achieve.
Nickolaisen created a social sharing video campaign to get an interview at a company on her watch list. The company's focus was on social media, so she asked friends to share and used ClickToTweet, a tool that lets users create their own share text for tweets and embed a custom sharing link. This made sure that tweets sharing her video tagged the company and used its branded hashtags.
Set goals, too, from taking part in discussions and starting conversations with relevant people or organizations, to getting interviews. If part of your strategy is to engage with influencers on Twitter, a goal might be three quality discussions a week.
Embrace tools.
Social-management tools aren't just for social media and marketing professionals. There are plenty of free tools available that make it easy to find job opportunities and manage your job hunting.
Nickolaisen recommended using IFTTT, a service that allows you to create customized, automatic processes across digital channels, to set up notifications of job updates from companies' RSS feeds. She also suggests following hashtags like #tweetmyjobs and #happo (Help a PR Pro Out), and using a tool like Hootsuite to set up a filtered feed just for those hashtags. These tools will not only help you get first dibs on jobs, but also build your network within your industry, Nickolaisen explained.
Twitter lists are another helpful tool. Creating lists of companies you're following (and hope to work for) makes it easier to track and respond to their tweets, whether you are applying for a mentioned vacancy, commenting on a piece of industry news or congratulating the team on winning an award.
Test what you're doing.
If you need to quickly identify key influencers in your niche, then Brandwatch does this for you. As well as building relationships with people at top companies, it shows recruiters you're well connected within your industry, which is always impressive.
Just like social media itself, your job-hunting strategy and how you implement it shouldn't be static. Make sure that you don't get stuck in a rut with what you're doing, as you could be missing opportunities or pouring time and energy into an ineffective approach.
"Test different approaches: which sites you use, what you say, when you say it, how you say it. Measure the results," says Brenner. "Whatever your goal, you won't reach it without a map and without checking to see that you're using the right map."
This doesn't have to be complicated. If one of your goals was to have five Twitter interactions a week with relevant people, look back at your notifications stream to see if this happened. If you wanted to get one of your Instagram photos regrammed by a company account, check back to see how your image performed.
If you're not getting the desired result, check out how your peers are getting traction and why, then tweak what you're doing appropriately.
Show off your portfolio.
No matter how good you are at social networking, to get the interview and job you need to demonstrate to employers via a carefully curated portfolio that you have the skills and experience for the position. So use social media to show off your achievements—whether you are a writer, marketer, designer or photographer.
"Being able to see a portfolio backing up a candidate's CV and LinkedIn profile is helpful in deciding who to invite for an interview," says Gambler. "It's not just the quality of the work either; the way it's presented tells us a lot too. I notice if it is adapted to the relevant role, displayed in an interesting and appealing manner and if there are any interactive elements."
Build relationships.
This is echoed by Brenner, who advises job hunters to use social media to create teasers leading back to their central portfolio. For instance, a book designer might create a Pinterest board of book covers she's worked on, linking back to her website, where a prospective employer can find out more about her style and process.
Creating and nurturing genuine relationships is at the heart of using social media when you're job hunting. Social channels like Twitter, LinkedIn or even YouTube can bring you to the attention of senior staff who otherwise might not be involved in recruitment.
This is because they offer an immediate way to connect, whether it's through a direct Twitter conversation or seeing your name pop up repeatedly on their Twitter feed. Nickolaisen found this happened with her social video campaign: "For a while the social stream on the [company] website was pretty much all tweets about me." This attracted the attention of the company founder; he sent a link to her video to the hiring manager, along with a note saying how much he liked it.
Be proactive and engage in discussions on your chosen platforms; however, it's important to avoid sending boilerplate responses or spamming people. It's better to post to one relevant LinkedIn group with a well-thought-out discussion point than to make 30 identical posts to 30 different groups.
For Brenner, the key to success is being genuine: "Have conversations. Help someone out. Ask for help. Give away something for nothing. Be yourself, your best self, but still yourself."
After all, people hire people. Connecting with an organization through social media lets you show all those personal qualities employers want: self-motivation, confidence and willingness to embrace new technology.