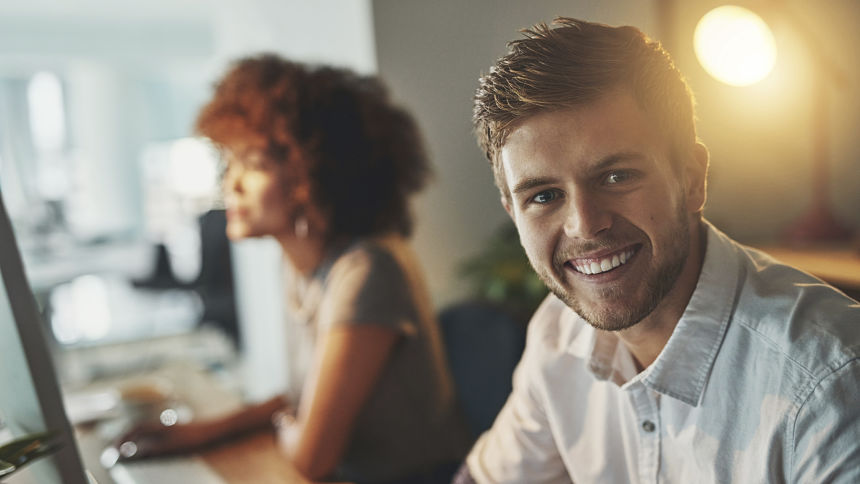 As a professional with a newly budding media career, you can make a few strategic moves in your 20s that will have major positive effects on your long-term success.
To learn the right steps to take, we spoke to industry creatives and hiring managers for insights on how to get noticed for your accomplishments, build your network and secure your place in line for that well-deserved promotion.
1. Find a Mentor
If you're new to the world of media, consider enlisting the advice of a seasoned pro. "Mentors are good for feedback loops and for leveraging their experience, which certainly can accelerate a 20-something's career," says Shelby Sledge, VP of services at Shelton Interactive.
2. Build Your Network
Networking is a must for those just beginning their careers because, in case you haven't discovered this by now, it helps your career to know people.
While traditional networking—think conferences and associations—still hold value, consider getting your start virtually, by jumping into trending, industry-related topics online. "Look for conversations already being had and start engaging in smart, value-added ways," says Sledge.
And while LinkedIn is the obvious starting place, don't forget about Twitter. "A colleague of mine calls Twitter a cocktail party," says Sledge. "You can 'walk up' on any conversation with the use of a hashtag and join in. Join the cocktail party and start networking."
3. Start Side Projects
A great way to show off skills beyond your day-to-day job descriptions is through side projects—whether they are freelance writing projects, articles or a book you're writing or even a company you're trying to launch.
"Often, an employer doesn't know the full extent of your skills and expertise until they witness it first hand," says Dana Kaye, founder of Kaye Publicity, Inc. and author of Your Book, Your Brand.
"Working on outside projects allows you to demonstrate your abilities outside of your job description and may open doors for promotions and increased responsibilities," says Kaye.
Chris Dessi, CEO of SilverBack Social and author of Remarkable You shares that opinion: "I like when the side hustle has something to do with what you're doing in your day to day."
Dessi also says working with people outside your office is a great way to gain exposure. "Sometimes our jobs don't allow for that. Seeking that outside your 9 to 5 can be healthy, and a great way to jump-start your career," says Dessi.
4. Document Your Achievements
One of the most important things you can do early in your career is keep a log of any notable achievements. These could be any projects that showed high returns, times you solved a big problem or even how you went above and beyond in your daily tasks.
"If you want to move up in a company, you have to prove yourself," says Natalia Crawford, marketing and creative principal at Typenine Creatives. "Showing that you accomplished things in the role you were given is an indicator that you will accomplish things in a new role."
Frances Reimers, director of corporate visibility at integrated marketing agency PCI reminds you to think from the manager's perspective. "As a manager it's challenging for me to keep track of each and every accomplishment my staff makes," Reimers says. "I really appreciate when an employee tracks their own achievements as it demonstrates that they are truly invested in their own development and contribution."
5. Keep Learning
Whether it's an online class, an industry book or simply asking a coworker the best way to tackle an assignment, being in the mindset of always learning not only looks great, but in this ever-changing field, it is vital.   
"It's imperative to always learn and grow, no matter the place in one's career," says Sledge. "But, for someone new to the workplace or early in a career, taking classes not only sharpens your skills, it also demonstrates initiative to those making promotion decisions."
Looking for a place to start? Check out Mediabistro's online, self-paced courses taught by industry experts.
6. Break Out of Your Comfort Zone
In order to grow in your field, meet new people and be exposed to all aspects of the industry, it's important to make yourself, well, a little uncomfortable.
And if you're hesitant, hey, you're not alone. Kaye says all employees freeze when required to shift directions or learn a new system, but she says it's important to remain agile, especially in this quickly changing market.
"Learning new systems, reading articles about new business philosophies or having lunch with employees from different departments will help broaden your horizons and put you at ease when your comfort zone is forced to widen," says Kaye.
Reimers says you should constantly be stepping out of our comfort zone, recognizing the industry is ever-evolving, and taking the necessary steps to keep up. "If young professionals adopt this mindset early in their career," says Reimers, "it will become a habit as they progress along their path and be a staple of their routine."
7. Develop Your Personal Brand
When you're just starting out in your career, it can be difficult getting noticed for your skills. As Dessi puts it, "Young people don't have a talent problem. They have an obscurity problem."
Advancing your career is all about name recognition and relationships, says Kaye, "but if you're an entry-level employee, it can be difficult to expand your name recognition to the higher-ups."
The solution? A personal brand.
"If you constantly complete tasks ahead of deadline, or always volunteer for outside projects, people will take notice," says Kaye. "And when a manager or director is putting together a team for a special project, they'll think of you first."
8. Set Goals, But Be Open to Change
Early in your career it's essential to set goals in order to stay focused on career success. Chris Palmer, author of Now What, Grad?, suggests taking some time to think about your specific goals and writing them down. "By getting them out of your head and onto paper, you can examine them with more objectivity," says Palmer.
After sticking to a goal and seeing it through, you might realize you want to make some changes. And that's OK, too.
"As a young adult, you are still growing and being shaped into the person you are going to become," says Crawford. "Set goals for things you want to accomplish, go after them and then know it's OK if you change your mind."
9. Buy Your Domain… Right Now
Right now, go to a site like godaddy.com and check if yourname.com is available for purchase. If so, grab it. If it's not available, choose something close, like including your middle initial.
Creating a site for yourself is a great first step in developing your personal brand, and choosing your domain as your name is the smartest move. As Dessi says, "You will never be someone else. You may change careers, jobs, locations and passions, but you will always be you."
So if you were attempting to brand yourself as a social media strategist, but later decide to work in project management, you'll be able to change the site's content, without being stuck with, say, JohnSmithSocialMedia.com.