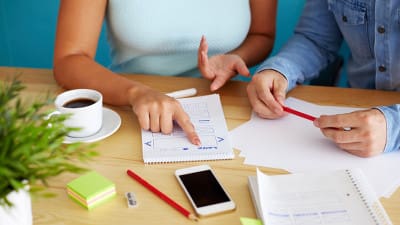 How to Add Skills to Your Resume Without Going Back to School was originally published by the American Marketing Association.
Marketing, as a field, is broader than ever.
"I think [marketing] has fragmented and specialized more in the last decade. There have always been various niches in marketing but I think that the digital space has grown as so many new startups have formed," says Tim Boswell, executive vice president and general manager at Mediabistro.
The opinion is shared by Eric Siebert, vice president of global digital marketing at Boston Scientific Corporation and author of the Kindle book Careers in Marketing: The Comprehensive Guide to Traditional and Digital Marketing Careers. Recounting the beginnings of his 30-year career as a marketer, Siebert says, "Technology was the network, TV and radio, and other analog devices that distributed your one-way message to your consumer. And that was it."
Partnering With Small Businesses and Nonprofits
This fragmentation creates problems for marketers looking for new opportunities. Whereas in the past, all marketers spoke the same language, specialization has brought different dialectics to the profession and is showing signs of forming whole new languages that are unrecognizable to people not directly immersed in new categories.
What happens when marketers want to switch companies or even roles but lack the specialized training sought in certain job postings. Are they eligible?
"I think that certainly someone who begins in an area that is at the center of the wheel in terms of strategic marketing, they've got to have skills that can translate into any of them," Siebert says. "If someone goes in and specializes in promotion, or specializes in media management, I think it's tougher for them to make a transition to one of the other paths."
Learning the hottest new marketing skills is the best way to keep workers in demand, but how can they go about doing that, short of going back to the classroom for grad school?
For Siebert, the solution lies in work experience. While teaching a class at Bentley University, Siebert developed his book in response to student interest in the professional marketing world. "What I really encourage job seekers to do is to go to either a nonprofit, or small local business, or even [use] your own hobby and build a website and understand the principles of how to design a user experience and navigation and content experience on a website," he says.
"Understand the basics. Try to drive organic search traffic by doing your keyword planning and optimizing the content on the website for that. Dabble a little bit in Google Adwords, spend a few dollars and learn how you bid and develop a search ad," Siebert says.
Besides the expertise that comes from developing a new skill, having a real-world example can give marketers concrete examples to point to in interviews.
"To go in and say, 'I haven't done it at IBM or General Electric, but I have written a digital marketing strategy for my local chapter of the Boys and Girls Club. I took their website traffic from 5,000 a month to 10,000 a month and I know the mechanics of this.' That's the best way to do it," Siebert says.
Taking Online Training Courses
Marketers looking for a more traditional route, or a smaller commitment, can instead pursue continuing education and professional development courses, like those offered by Mediabistro as online training courses.
Developed to address the most in-demand skills on job board postings, Boswell says that the course offerings have been recently revamped. According to Boswell, the new format packages classes into 10 to 15-minutes videos, with each course totaling about three to four hours of running time.
They can be taken anytime, not just during the traditional academic calendar. Some of the most popular offerings so far for 2016 include SEO writing, building an editorial calendar for social media channels and e-mail marketing. Boswell also says plans are in the works to include value-added extras, such as a tool that builds campaign trackers into URLs and KPI dashboard templates in spreadsheet form.
"All of these have been big for a while but we're still seeing big volume in this area. Consequently, we're looking to try to ensure we cover those skills to be able to give [jobseekers] a chance to play in that space," Boswell says.
Zach Brooke is a staff writer for the American Marketing Association.
The American Marketing Association is the pre-eminent force in marketing for best and next practices, thought leadership and valued relationships, across the entire discipline of marketing. Its online publications include posts on industry trends, career advice and more.