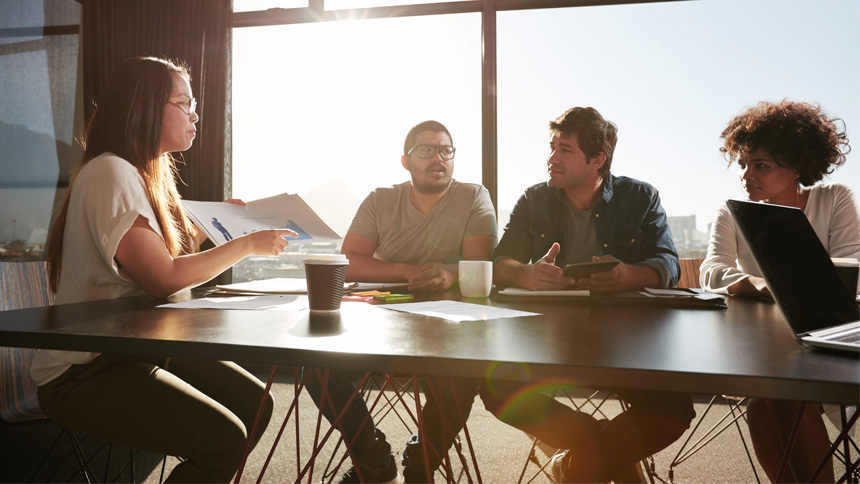 Despite what you may have heard, a community manager doesn't just troll the Internet all day. And it's not all firing off promotional tweets. Nope, the job is a lot more involved—and way cooler—than that. Intrigued? Here's the skinny:
What exactly does a community manager do?

A community manager helps build, grow and manage a company's or brand's online communities. Using analytics tools to monitor social media outlets, online forums and blogs, a community manager finds out what people are saying about a company or brand. A community manager also engages with customers and fans, and uses social media and live events to help increase brand loyalty.
By creating and implementing programs that connect customers and help them learn from one another, a community manager communicates value to an organization's customers, says Melanie Olsen, community and events manager at Widen, a marketing technology company in Madison, Wisconsin. Olsen oversees Widen's live events, which allows her to meet customers and create open-forum discussions, educational breakout sessions and networking opportunities for them.
What skills do you need?

As a community manager, you should be passionate about the company or brand youre representing—you're talking to customers to get them to start or continue buying the company's products. And constantly engaging with customers and fans means solid communication skills are essential.
Are you a master multitasker? The job requires juggling a lot of balls, so your organization and project-management skills should be on point.
Having a servant's mindset helps too, adds Olsen. You have to love helping people, and connecting people to solutions should make your heart sing.
Who is a community manager's boss?

Some, like Olsen, report to the director of marketing. But, as with lots of jobs, this depends on the company, its size and culture and individual job responsibilities.
Are there other titles with similar responsibilities?

Community management is often among the duties of other jobs, including digital marketers and social media managers. But, says Olsen, it's less about a job title and more about the role you play at your company, and that role can vary wildly, depending on the industry and (size of) the organization.
What do I need to get ahead in this position?

Good communication skills are a must. You have to be able to talk to people in a way that makes them comfortable with you, and you have to listen to what they expect, what they want. Empathize with them. Trustworthiness is also important. Your customers have to believe what you're saying and buy (in more ways than one) what you company is selling.
Being agile is also key. "This is a value-add job," says Olsen. "It's your job to provide additional value to your customers by way of community growth," so a willingness to jump in whenever and wherever needed is essential.
How can I get my foot in the door?

A resume that showcases your writing, sales, marketing and event-planning experience will help. A degree in something like business, marketing, management or event planning is gravy.
If you'd like to hone your social media and community management skills even more, consider taking a class. Mediabistro's Online Courses include Public Relations: Social Media and Community Management will teach you how to engage your audience, incentivize customer feedback, measure your success and more.