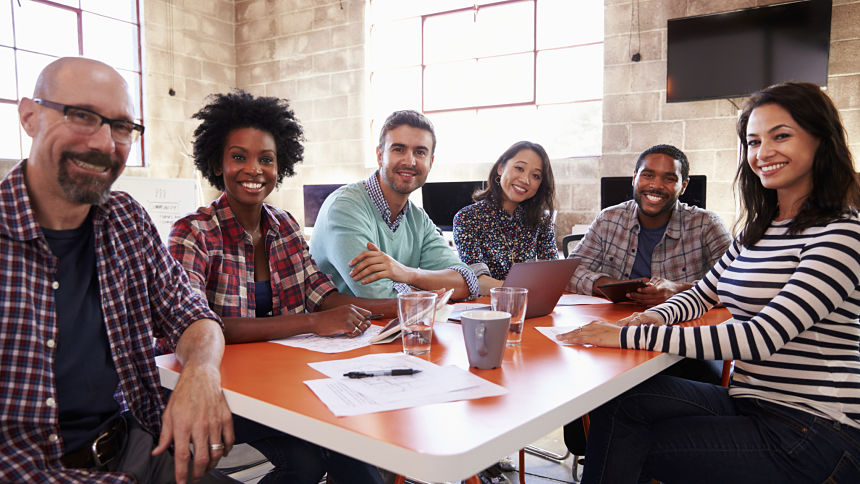 It didn't take long for the backlash to begin after the advertisement for Gap Kids—one in which a white girl is pictured resting her arm on a black girl's head—was released in April. It was racist, said many digital onlookers, because it presented the sole non-white child in the ad as a "prop" for her white peer.
Fast forward a couple months and the American Red Cross was flailing in the deep end, thanks to its pool safety poster that depicted black and brown kids committing nearly all of the "not cool" offenses, while the other, well-behaved children were noticeably white.
Then, in late summer, Good Morning America co-anchor Amy Robach was taken to task for referring to "colored people" during a segment on diversity in Hollywood.
Diversity. It's the buzzword that never seems to run out of gas, the pat accompaniment to an endless stream of mea culpas. But regardless of your position on the aforementioned affronts, and whether you found them personally offensive, one fact remains true: All of these incidents—and others—could have been avoided if the decision makers at those companies more closely represented the true diversity of our society.
"People from diverse backgrounds will bring creativity [to media organizations] based on their wide range of experiences and socialization," says Rochelle Ford, professor and chair of the public relations department at the S.I. Newhouse School of Public Communications. "Diversity does include race, ethnicity, sexual orientation and gender, but it also includes different socioeconomic levels, religions and colleges and universities. And not having diversity leads to harmful stereotypes, unintentional offenses and insensitivity, as well as the exclusion important stories that should be told."
Find a job at a company that truly values diversity on Mediabistro's job board.
Apparently, many media companies haven't gotten this memo. According to the 2015 Diversity Baseline Survey by children's publisher Lee & Low Books, the book publishing industry is nearly 80% white, while The Atlantic asserts that the magazine industry isn't faring much better. In advertising, a 2008 survey found that blacks made up a paltry 5.8% of all professionals and just 3.2% of managers, and they certainly aren't the only underrepresented group.
There are always exceptions, though, and those media companies that take diversity seriously are in position to secure the best talent that will continue to drive their inclusive efforts into the future.
So how can you find employers that are working to be a part of the diversity solution and not the problem? Follow these tips:
Attend Career Fairs
In 2009, shortly after the advertising industry's damning report card was released, The One Club, a nonprofit "dedicated to promoting creative excellence in advertising and design" launched the Here Are All the Black People career fair, to be held in New York on September 30.
As the name suggests, it's a multicultural fair that gives students, recent grads and other professionals the opportunity to network with top ad agencies, and events like these are a great way to get face time with companies that are serious about diversity.
"Participants have opportunities to interview, network, learn, interact with and gain invaluable knowledge from top creative professionals, as well as attend portfolio-building workshops, portfolio reviews, and participate in our popular live elevator pitch," says Traecy Smith, The One Club's director of diversity.
Other diversity-promoting media career fairs include The Center's LGBT Career Fair and the New York City Bilingual and Diversity Job Fair, presented by Diversity Jobs.
Research Sponsoring Companies
If you can't attend a job fair, or if you do attend but don't have the chance to rub elbows with reps from inclusive companies, you can still use diversity events as a jumping off for research.
"Take a look at the Here Are All the Black People website, and you'll find a whole host of sponsoring agencies who are walking the walk—not just by contributing funds, but by dedicating time to mentor, review portfolios and network," says Smith. The companies on this year's roster includes presenting sponsor Verizon, Y&R, Wunderman and Leo Burnett.
Scour LinkedIn
Smith isn't the only media professional with the word "diversity" in her title. According to a recent Forbes.com article about diversity hiring practices, companies are proving their commitment to inclusion by creating positions that make diversity a key focus—and titling those roles accordingly. The good news? You can typically search for those titles on LinkedIn. "This will provide you with some insight on their background and what experience they might be applying internally within the company when it comes to diversity and inclusion," says Kathy Chow, executive director of the Asian American Journalists Association.
Check Company Websites
This may seem like a no-brainer, but checking out a company's website may be one of the best ways to gauge diversity efforts.
"Almost all companies will have their philosophy on how they value diversity and inclusion in the workforce," says Chow. "Does the company have a diversity council? Does the company have affinity groups such as an Asian Pacific Islander employee group or an LGBT group? Does the company sponsor events such as Chinese New Year parade, etc? Often companies will list the groups or sponsorships they have provided during the year. This list will give you an idea how inclusive they are in their support of the community."