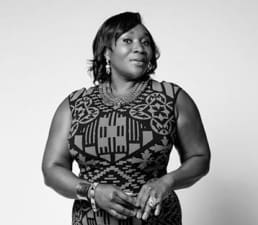 There are some TV personalities who, perhaps unbeknownst to them, become "friends" to their fans and viewers. You know how it is — the rational part of you realizes they couldn't pick you out of a two-person lineup, but they're just so darn likeable the imaginative part of you feels like you could just call them up and invite them to dinner.
That's the Bevy Smith Effect: scintillating, jump-off-the-screen personality that has endeared her to people from all backgrounds and propelled her transition from a 17-year career in advertising to TV show hostess and style aficionada.
Here, the native New Yorker talks professional shape-shifting, the power of networking and being generally spectacular.For her next professional reinvention, she plans to parlay that ultramagnetic charisma and on-screen experience into stand-up comedy and acting.
It's a set of goals she intended to accomplish years ago — until legendary acting coach Susan Batson convinced Smith that playing the part of herself was going to make her a star. "She said that who I am is character enough, that I am the book and the movie already.
She told me I could work right now as I am," Smith remembers. Having done that with a 28-episode deal for Fashion Queens on Bravo and on-air talent gigs for VH1, E!, BET and TV One, among others, her in-demand expertise in pop culture and fashion stands out in an army of contemporaries, proving there's just something about Bevy.
---
Name: Bevy Smith
Position: TV show hostess, writer, style expert, motivational speaker and entrepreneur
Resume: Started career in 1989 as a receptionist at Jeff McKay, Inc., in New York City. Promoted first to media planner, then to media director in 10-year tenure working with luxury brands like Shiseido and Via Spiga, and outlets like Vanity Fair and Vogue. Hired as fashion advertising director at Vibe. Developed a client list of high-end beauty and fashion advertisers, including Dior, Armani, Dolce & Gabbana and Prada. Offered position at Rolling Stone as senior director of fashion advertising, where she worked for a year. Became fashion editor-at-large for Vibe, representing the brand as an entertainment and lifestyle expert. Oversaw celebrity fashion shoots and wrote monthly "V Style" column. Founded Dinner with Bevy series to bring together entertainers and media professionals, from Quincy Jones to Chelsea Handler. Contributed freelance articles to Paper, Essence, Vibe Vixen, Interview and Glamour. Featured as on-air talent for various cable networks. Named co-host for Bravo's Fashion Queens in 2013.
Birthdate: November 2, 1966
Hometown: Harlem
Marital status: Single
Media mentor: Ryan Seacrest. "I love that he has created this multi-tiered media empire, including his own advertising agency. He buys media, creates advertising for his clients, then places the ads that his agency created on his own radio show. That's pretty impressive."
Best career advice received: "What I learned is if you do good work and stay above the fray, you'll be successful."
Last book read: Undisputed Truth by Mike Tyson
Guilty pleasure: 70s soft rock
Twitter handle: @bevysmith
You left a high-profile job and 17 years in magazine advertising to reinvent yourself as a TV personality. Why?
I'm a goal-oriented person. Once I conquer a goal, it's time to go. I was at Rolling Stone in pretty much the same position I was in at Vibe except it was a bigger title and bigger pay. I'm not talking about a 10 percent raise. It was a significant amount, but I was miserable. It was just like, 'I don't want to do this anymore.'
It's important to know, though, that it wasn't really about Rolling Stone. I was only there for a year and I was already fed up by the time I got there. I didn't want to do that particular profession anymore. I wanted my new self to be a free spirit. I wanted her to be creative. I craved freedom and a life filled with exploration. I had a lot of writer friends, and I loved the way they lived. Now, they didn't make any money, but I loved the fact that they had their days free.
I felt like I could do that and make money. I read The Artist's Way by Julia Cameron and one of the biggest takeaways, besides always living your life as a child and having a sense of wonder, was that 'the starving artist' is totally BS. You can actually feed your creativity and feed yourself quite well.
You'd been on the advertising side of magazines, but how did you get into writing for major titles?
When I quit Rolling Stone, I quit with the idea that I was going to pursue TV and I was going to write. I was going to become an actress, I was going to do photography, I was going to travel the world and do whatever made me happy. As soon as I quit, I went to South Africa, Zambia, Brazil and Costa Rica for three months. I had an amazing time and cleansed myself of my corporate life.
When I came back, I got a phone call from my dear friend Mimi Valdés, who at the time was the editor-in-chief of Vibe. She said, 'We would love to have you back.' Whenever VH1 or BET needed someone to come on and talk about the fab life of XYZ R&B or hip-hop star, I wanted to be the person from Vibe that went on. So I did that and I built up my reel, and that's also how I started writing.
I have dear friends over at Paper, too — Kim Hastreiter, David Hershkovits and Mickey Boardman — and they were like, 'We would love for you to write for us.' The first thing I ever wrote for them was a cover story about Rihanna's 'Good Girl Gone Bad.' I [was] one of the first people to talk to her as she was making herself a unique entity.
Word is you were originally approached to be on Tim Gunn's Guide to Style. What happened to that opportunity and how did you eventually land Fashion Queens?
I told everyone that I was looking to do TV. I had all these incredibly connected friends that were always trying to introduce me to some agent or executive, but I didn't use them much. Then a friend said, 'You're going to get a call from Bravo. They have a new show with Tim Gunn and you're going to audition.' I was nervous, but no matter how nervous I am, I go for it. I got the gig. That was maybe a year into my new life journey. It's incredible to be offered a show on a top-rated cable network with an icon of fashion.
I was on my way to speak at a women's symposium and it just so happened that the woman who was leading the panel was a former TV executive, so I asked her if she minded looking at the contract. She said, 'It's really bad.' Then I sent it to Monique Chenault, my television mentor. She really believed in me. She said, 'Oh Bevy, I want this for you, but this is really bad.' I turned it over to my lawyer to negotiate it, but they weren't budging on anything. Nothing.
That taught me a valuable lesson. Even though it was a big deal, I turned it down. I never thought when I did that it would take me five years to get another show. Then [Bravo network exec and host] Andy Cohen called and said, 'I'm going to find something for us to do together.' Every year since, he's put me in some kind of Bravo pilot or show. He's always been a champion of mine.
But it still took a while for things to take off. Did you feel pressure to stop being selective?
I was invited to be on The Janice Dickinson Show and I was like, 'I don't want to do reality. I definitely don't want to do it with a mean woman who is a bit of a racist.' I felt like it was a set up for me to fight Janice Dickinson on TV.
Then I got an offer to do another show going into fashion boutiques and helping them build their businesses, which is right up my alley because I'm actually in the business of fashion. I'm a little bit of a commitment phobe — that's how you wind up 47 and single — and it took me a long time to sign the damn contract. When I finally did, the production company and Oxygen couldn't come to terms, so that deal went away. I had lots and lots of opportunities, especially for reality TV.
Critics have fired shots about the stereotyping of gay men on Fashion Queens, particularly your co-hosts Derek J and Miss Lawrence. You've been a longtime advocate for the LGBT community, so how did you digest those comments?
I've seen what people are saying about my boys and I really take offense. If they're being true to who they really are, then what would we have them do? That's the way they feel comfortable expressing themselves. That's not something that Bravo makes them do. They found them in high heels with handbags.
So I don't feel that they're being exploited. If the cameras weren't on, they would be dressed that way. I think it's sad that there's that kind of self-loathing, even within that community. If it's something you truly enjoy, why should you worry about how it's going to look? At the end of the day, we're here to make sure that we're pleasing ourselves and not hurting others. There are certain things I would never do on TV, which is why I wouldn't do a reality show about my life. But other than that, honey, let's go. I want to do what I like and I think that's what my boys are doing. They're doing what they like.
What was your original vision for Dinner with Bevy and how has it evolved?
Well, my original vision was to bring urban music artists into the fashion fold. Now you see Future, A$AP Rocky and those guys, but in the 90s when [former Vibe editor-in-chief] Emil Wilbekin and I were going to Paris and Milan, there were no black artists — none — except who we brought over. I would take artists to fashion shows and introduce them to the heads of fashion houses. I saw there was a real need, so I created a dinner party series.
The music labels hired me and I would show up at dinner with designers, people in communications, people who can lend the clothes and editors from general market magazines like Vogue, W, GQ, Esquire. I knew they would come because I had amazing relationships with them and they knew they would have a good time. Some of my greatest events ended in full-on dance parties with people really connecting. When you break bread for three hours and there's good food and the music is going, baby, magic happens.
You weren't a 20-something starlet when you launched into the on-air portion of your career. Do you see a shift in the way networks are valuing experienced women?
Oh yes, definitely. I think the shift is really not so much about age; it's about personality.
Gone are the days when you could just be a news reader, like 'Hello, good evening. Welcome to…,' that formal kind of thing. Even news is infused with opinion now, so it's important to be able to offer your opinion in an articulate and entertaining way. People are looking for real. Once upon a time, the gorgeous, 20-something Miss Indiana starlet would've been the one getting all the big TV jobs. Do we see a lot of beautiful but vapid girls anymore? Not really.
What worked well for you as you positioned yourself as a media personality?
When I was in the thick of grinding it out, I was really dedicated to my Twitter feed. Every morning, I would tweet for three hours. It was just as important as going to auditions or making sure that I was writing for XYZ magazine. So by the time Fashion Queens came on, I already had 50,000 Twitter followers. Social media is the fifth estate.
When you talk to network executives, they want to know if you're on Instagram, Facebook, how many followers, all of that because that means big bucks. Every Sunday, I still live tweet Fashion Queens. I'm not paid extra to do that. It just makes it that much more interactive for the people who watch it and follow me.
This interview has been edited for length and clarity.