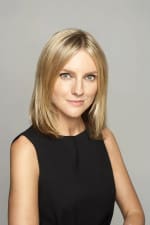 As features and special projects director of Harper's Bazaar, Laura Brown works closely with editor-in-chief Glenda Bailey to create the fashion magazine's most buzzed-about stories and celebrity covers that have garnered more than their fair share of ink. When she's not in negotiations with Hollywood's gatekeepers for access to the A-list, Brown moonlights as the magazine's public face.
She sent The Simpsons to Paris to meet Donatella Versace and Marc Jacobs, brokered a kiss and make-up session between Courtney Love and Karl Lagerfeld after the rocker riled up the designer by wearing fake Chanel, and convinced waifish stylist Rachel Zoe to pack on prosthetic pounds for some of Harper's Bazaar's most memorable photo shoots. It's all in a day's work for Laura Brown.
It's heady stuff for the Aussie who grew up on a farm in Sydney and moved to New York "to be where things happened." Brown landed in America on Sept. 4, 2001. "It was Fashion Week and I'd gotten into the Marc Jacobs show. It was all so glamorous. There were celebrities everywhere, and there was a big buffet. It was like some big Roman feast," she recalls.
It was a momentous evening for the aspiring fashion journalist. "I was with a French girlfriend and I remember walking out to the end of a pier downtown and looking out at the Twin Towers and thinking, 'Wow, look where we are! I've made it.'"
It was just the beginning of Brown's rapid rise through the fashion ranks. Before coming to New York, she'd worked at Harper's Bazaar Australia as features editor but came to the states with no job lined up. Instead, she freelanced for her former employer and did stories for a few Australian and British newspapers. She was on the brink of moving to Los Angeles ("I was dating a guy there") when W hired her as senior editor for the writers from the European bureaus. Brown then moved to Details to explore "the foreign land of men folk" before joining Harper's Bazaar's mothership here in 2005.
"All roads lead back to Harper's Bazaar," she jokes of her career path. Originally tapped as articles director, Brown has seen her role expand exponentially at the magazine: "It's been allowed to grow and that's why I'm so grateful," she says. "If you're good at something and you have an ability, you're allowed to do it here. You're not put in a box at all."
---
Name: Laura Brown
Position: Features and special projects director, Harper's Bazaar
Resume: Got her first job in magazines as production manager for Mode magazine in Sydney. ("It sort of wished it was W.") Joined Harper's Bazaar in 2005 as articles director having worked as articles director at Details and senior editor at W. Before coming to New York, she was the features editor at Harper's Bazaar Australia.
Birthdate: May 27, 1974
Hometown: Sydney, Australia
Education: Charles Sturt University, BA arts and communications
Marital status: "Taking meetings, but I haven't signed a deal."
First section of the Sunday Times: "The front page."
Favorite television show: "A delightful ying and yang of The Daily Show and Gossip Girl."
Guilty pleasure: "Magazines and margaritas, sometimes both at once."
Last book read: "The Forever War by Dexter Filkins. I don't normally read a lot of books about Iraq and Afghanistan, but I found this the most humane, beautifully written, sad but thrilling book I've read in such a long time."
---
What exactly does a 'special projects director' do?
Firstly, I book Bazaar's covers; it's 12 a year, so it's a lot of work. It involves persuasion and diplomacy in equal measure. I run the features department. I also conceptualize all our 'coup' features as we call them: all of our stories that get us our press.
I make Glenda's ideas a reality. A couple of years ago, we did Chloe Sevigny at a rehab clinic. [Glenda] had the rehab idea and I thought of Chloe, and I cast her. It's coming up with these notions and convincing people to do them. I write a bunch of our cover stories. I work on publicity for the magazine.
And I do our TV: I do CNN, Good Morning America, Bravo's The Fashion Show. It's not dull.
What's the best part of the job?
It's basically being able to make what is seemingly an untenable idea or a fantastical idea a reality—to have a light bulb go on over your head like, 'How about Tyra [Banks] as Michelle Obama?' and then having that happen.
I feel like a little girl from Sydney when I do those things like, 'Wow, look at that!'
How's the celebrity wrangling game today?
It very much depends on your relationships. I think I started doing it because I have this masochistic desire to charm people, even the ones who are difficult. (Laughs) It requires such a high level of diplomacy.
It's been fascinating to get the temperatures of these people who hold the keys to the biggest actresses in the world. I think what makes things easier is if you have a trust there.
Harper's Bazaar is a very illustrious magazine, and we're respectful to people we put in the magazine. That works in our favor, and we get lots of press, so it's not much of a battle.
What's the greatest challenge to getting an A-lister like Halle Berry for the cover? Obviously, it's always in their best interest to do one when they've got a fragrance to launch or a film to promote, so that has to make things a bit easier.
There are a few celebrities that sell magazines very, very well, and we're all competing for them. What we do is develop a relationship. Sometimes people do covers every two or three years. We put women on the cover to sell magazines, and we do not compromise.
We'll find whatever way we can to lure them. If it means [promoting] a movie or a cosmetic project, it is really useful for us, as well. It's great when we have actors that are promoting more than a movie. There are other pegs to stories: if they have a fashion line or a fragrance or are 'best dressed.' We've got to be flexible as to what is going to help these women want to appear on our cover.
How are they selected? How far out are they planned? Who's on the wish list?
Some covers we book really far out. We may have a December booked in April. Then sometimes we'll have much shorter notice on the others.
It's interesting. You really have to trust your pop cultural sense of who is going to be relevant six months from now. Jennifer Aniston, Cameron Diaz and Reese Witherspoon are certainties: They sell amazingly well.
You know if you're putting Jennifer Aniston on your cover in December, you're going to be fine. You need to really fine-tune your radar and make [an] educated guess as to who is going to be relevant at the time, and that's what we're paid to do here.
You go with your gut.
Which stars have been the bestselling covers to date during your tenure?
Jennifer Aniston on our 140th anniversary cover was one of our biggest sellers of all time. Kate Hudson does very, very well. Drew Barrymore does very well. So does Sarah Jessica Parker; I love her! Demi Moore did amazing; women love her. I think Halle Berry is going to do very well. Scarlett Johansson did great in February because people like her and it was such an arresting cover.
It was a big 'Love' with a heart and it kind of jumped out at you. It was really positive. As much as the celebrity counts, the message of the cover is one that needs to be compelling, as well.
You mentioned the story you did last September where Tyra Banks was depicted as Michelle Obama in the White House. How did that come to be?
We were talking about doing something with Tyra for a while. I had lunch with her one day about a year ago, and I just liked her so much. I think she's the coolest. Obviously, the election was on everyone's mind. I just said to her, 'Why don't we do this?'
We have one pop cultural icon who is paying homage to a woman who is about to become first lady and is clearly an icon herself.' She got it straight away. She had no hesitation whatsoever. We shot this months before the election, and we imagined the White House with the family. If we get one point for prescience, we'll take it.
It was sort of a long day and one of the last things we shot for the B-roll was Tyra walking up the stairs with her faux Barack and she was like, 'Barack and Michelle, you might be going to the White House, but I'm going to White Castle!' (Laughs)
She was great. We got so much press. There were people who loved it, and then there were some people from Harvard who couldn't believe we put a Harvard sweatshirt on Tyra and thought it was outrageous. I love doing that kind of stuff when you get a reaction from people.
That's the point: You don't shoot stories to have them die.
Any reaction from the Obama camp at the time?
We heard that they liked it. A lot of the interview with Tyra was about how moved she was about the idea of an African-American first family and her respect for both of them, so the whole thing was incredibly positive.
In these perilous times for publishing, does a fashion magazine need a celebrity on the cover to sell?
They're helpful, but we've been doing it for years. Glenda has put celebrities on the cover since she started at Bazaar, and before that at Marie Claire. We recently had Gisele [Bundchen] on the cover: She's a celebrity who happens to be a model, and that got an insane amount of press because she conveniently got married right around that time. (Laughs) Thank you, Gisele!
It's a formula that works. Glenda's knowledge of what sells on the newsstand is almost unparalleled. I don't think we're going to quit putting celebrities on the cover in the near future.
You mentioned a lot of movie actresses sell well on the newsstand. Are there collective groups of celebrities that are more influential than others today? The concept of celebrity has become so elastic. Which pockets of people do you think are most relevant to your reader?
That's an interesting question. There was a time a couple of years ago when everybody was following Paris [Hilton], Nicole [Richie] and Britney [Spears]. That's passed a bit now.
I think the women for our readers who we find compelling are the politicians. The lens is more on them than it has been. I think a woman who manifests curiosity about being compelling and straddling all different worlds would be Angelina Jolie. She manages to compel all of us in various incarnations, whether you work at the United Nations or read Us Weekly.
The actresses like Jennifer Aniston are never going to go away. 'When times are tough,' it's a cliché, but you want to read a bit of candy. You want to see a nice girl wearing a nice dress. We have enough news and swine flu to deal with.
Also, women who live their lives well are important to us; they have families and rewarding careers. One of the greatest examples of that is Sarah Jessica Parker. I think she lives her life with such integrity, and she's such a professional. She's a mom and she takes James Wilke to school every day and goes to Gourmet Garage [grocery store]. She's a Bazaar woman and another archetype that we like.
A lot of these women are in the 30s and 40s. We like to think we can relate to them.
One of Bazaar's signatures is 'Fabulous at Every Age.' I often think that to even see the number 60 in a fashion magazine as it relates to age is pretty major.
I always love the merchandise in the 70s section. I'm never in the 30s, I always go right to the 70s.
Is that something that's discussed a lot, the idea that women with a great deal of the purchasing power are getting much older?
You can't ignore them, nor should you. The term 'Fabulous at Every Age' was coined for a reason. Age need not be a limitation to fabulousness.
If you're in your 30s and you can't be inspired by somebody in their 70s, you're mad. Glenda gets people coming up to her on the street about that franchise. People feel appreciated and respected and taken care of if they're a little bit older.
Tell me about your role on The Fashion Show.
I'm the guest judge of the 'Harper's Bazaar Mini-Challenge.' I'm in the first nine episodes, and Glenda comes in to do the 10th and will be in the last two. I come in and say, 'This is what your challenge is today,' and it's normally a quick exercise that they have 30 to 90 minutes to do. Then I come back and judge it on camera.
It's such a new experience, and I love the fact that they're such a cast of characters. Some are incredibly talented and some are just wacky, but they're all interesting.
What was it about this one that made this reality show the right fit for the magazine? Is it because the genre has proven to be a brand builder for fashion?
We have a 141-year-old brand to protect. We couldn't just go down the road with anyone, and we've had some wacky offers. Bravo is a network that has a proven history of aligning fashion and other creative arts with drama and good television. It seemed like a good fit for us.
They are a populist network, and we're a commercial magazine. They took our opinion in consideration with our small part. They were a great professional crew to work with. Bravo knows how to make good television, and they treated Bazaar like the authority it is.
Your job is so multi-faceted. What do you do to stay on top of what's happening in pop culture? Were you into it growing up?
When I was younger, I couldn't decide if I liked fashion best or movies and celebrities. I'm in this very lucky position where I don't have to choose anymore because we put fashion through a pop culture filter or vice versa in the pieces I work on.
That's been extraordinary.
One of my greatest pleasures is sitting down with a magazine, especially on Mondays when The New Yorker and New York magazine come in my inbox. I take them home and I read them that night. I flip between The New York Times and Perez Hilton.
I've had a thirst for what is new my whole life. Growing up in Australia, I wanted to be where things happened and that's why I moved to New York. I've always had that curiosity. I was born on a farm. I went to college early and finished by correspondence, and had my first job at a magazine when I was 19 years old.
What would you say to writers working for magazines right now who have seen work disappear and rates for stories slashed so dramatically?
I moved here right before the worst disaster in American history, so I kind of feel like if you want something enough, you can get it. Print and television all feed each other, and you need to understand and be able to maneuver within all of it.
I knew one person when I came here. You need to have passion. Passion is going to drive you where you want to go. If you have passion and you're good at what you do, you're going to do well regardless of the economy. I honestly believe that. You have to earn your stripes. You can't expect things. Kids these days that expect things to be handed to them on a plate drive me nuts. Times are tough.
It is really hard to be a freelancer. All the magazines have tightened their budgets. Nobody wants to be a young, startup freelance writer right now. Try and get a staff job. If you've had a career freelancing, stick with it: It will get better.
How would you say you've gotten to where you are?
Delusions of grandeur and a smile.
This interview has been edited for length and clarity.