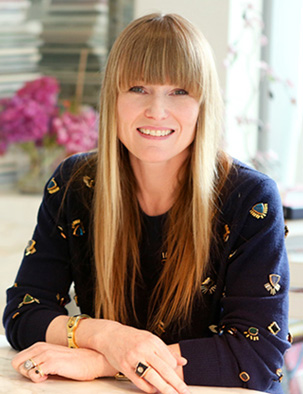 "Fashion starts here" is the motto of Teen Vogue, and the magazine itself starts with Amy Astley. Tapped by Vogue editor-in-chief Anna Wintour to create a smart, fashion-savvy younger sister to Condé Nast's fashion flagship, Astley edited four Teen Vogue test issues before the publication launched in January 2003.
Since then, she has forged a strong yet endearingly quirky identity for a magazine that prizes creativity and personal style while answering reader questions such as "How do I rock the season's band jacket without looking like I'm leading a parade?"
The magazine's latest venture is The Teen Vogue Handbook: An Insider's Guide to Careers in Fashion, which will be published next month by Razorbill. Astley describes the book as "a useful, practical reference guide" to the areas of fashion design, styling, photography, and journalism. Through tips and life lessons from the Teen Vogue team, as well as industry heavyweights such as Marc Jacobs, Karl Lagerfeld, Pat McGrath, and Robin Givhan, the book provides advice on everything from building a portfolio to landing a coveted magazine internship. As New York gears up for Fashion Week, Astley sat down with mediabistro.com to discuss all things Teen Vogue, from the magazine's distinctive aesthetic and proudly "girl-centric" voice, to the new book and the educational initiatives that are at the core of both the magazine and Astley's job description.
---
Name: Amy Astley
Position: Editor-in-chief, Teen Vogue
Background: Spent four years at HG [the Condé Nast shelter magazine established in 1901 as House & Garden] as assistant to editor-in-chief, assistant editor, and associate editor before moving to Vogue in 1993; served as beauty director at Vogue before being tapped by Anna Wintour to launch and edit Teen Vogue in June 2002.
Birthday: June 5
Hometown: East Lansing, Michigan
Education: Michigan State University (B.A., English literature)
First section of the Sunday New York Times: Business
Favorite TV show: "I'm just getting into Mad Men, but I'll be honest with you, I've seen every episode of Hannah Montana. I love Miley Cyrus. She is so talented. She's a triple threat."
Last book read: Losing Mum and Pup by Christopher Buckley and currently reading Crazy for the Storm by Norman Ollestad ("I'm loving it.")
Guilty pleasure: "Ice cream cones with my kids on the North Fork of Long Island… but I don't feel guilty about it. I think I deserve it."
---
Where did you begin your career in magazines?
I started my career at HG [Condé Nast's House & Garden]. I was Nancy Novograd's assistant. It was my first job out of college, and she was the editor-in-chief at that time. I worked at HG for about four years, until the magazine was closed, in 1993. And then I went to Vogue.
Was what your experience at HG like?

HG was a wonderful place to start my career. I love interiors still. I'm crazy about decorating and really thought I would be a decorating editor. That's what I was training to do, and I had great opportunities at HG. I did styling of interiors, and I wrote a lot. I love writing. I was always a bookworm as a kid — a real bookworm and a words person. I was drawn to work in magazines because I love putting pictures and words together.
I think of myself as style journalist. I love interiors. I love flowers. I love decorating. I love food and tabletop. I love clothes, obviously fashion, so it's all of a piece to me. At HG, I was lucky that it was a small staff and you could do a lot of different things: style interiors, go on shoots, write copy, learn about the market. I was in the D&D Building, I did fabrics, tabletop, a little bit of everything. I was a junior editor by the time the magazine closed.
When HG closed, how did you make the move to Vogue?
This is something I discuss in The Teen Vogue Handbook, in the context of networking. In any job, it's important to network like crazy with everybody, not in a calculated way, but in a smart way. No one likes to feel that they're being worked over or operated on. Interns, for example, should network with each other and also the person who is supervising them — and that could be a very junior person. I've seen this happen so many times: the guy who runs [the Teen Vogue fashion] closet will decide who the two best interns were for that summer, and those [are the] two that will be recommended for jobs at Teen Vogue or Allure or Vogue.
Vogue wasn't really a logical move for me. I was in the decorating world. When HG closed, a man named Charles Gandee, who had been creative director at HG and had left for Vogue a year earlier, recommended me to Anna Wintour. I had happened to do a lot of stories about young, fashion-y people at home and was working for Wendy Goodman, who was a great editor. I ended up at Vogue because he suggested me to her. I think the real story is Anna said to him, "I have a few positions open here. Is there anyone from HG you would suggest?" And he said, "Talk to Amy." He was someone I admired and respected, and I had interacted with him in a positive way. For me, it was good example of the importance of networking and being open to new opportunities.

The tagline of Teen Vogue is "Fashion Starts Here." What do you see as the mission of the magazine?
Teen Vogue is about fashion and style, but it's really about creativity. What I wanted Teen Vogue to be about was telling girls "Be an individual, be creative, have fun." It's not about "How skinny can you be?" or "Do you have the right bag?" Teen Vogue has always been about personal style, customization, DIY, vintage. If you look, for example, on TeenVogue.com at our forums, the girls are really individualistic, and they come to us to affirm their own creativity. And I always use the word "girl-centric." It's a girl-centric place. It's not about boys, and girls like that.
One of the signatures of Teen Vogue is the design elements: the colors, the typefaces. It's such a visually exciting publication. You have a strong creative team, but is that something that's also at the top of your mind as editor-in-chief?
Absolutely. I don't think there's much point in a fashion magazine that isn't interesting to look at. That's absolutely what drives it. And then the voice that comes through in the text is critical, too. I always say to the editors here that when girls are reading the magazine, the words give them a sense of our value system, but the pictures are definitely what drives it and pulls people in. The features are critical, too. To me, the features give you your voice and connect you to the readers. They allow people to find out who you are and what you look like. We've always had strong art directors. It's really key to me. I'm an intensely visual person and care deeply about my environment. I'm obsessed with beauty, to be honest.
The closing page (Last Look / A Room of My Own) of each issue leaves readers with a visual punch — by featuring the bedroom of a "real girl." I suspect it's the first page a lot of people turn to.
Ah, the room, I know. Well, the room came from me out of my love of decorating. I always wanted to see what girls were doing with their own bedroom, their own space, and it's such an important space for girls. And their mom, if she's even remotely a cool mom, will let them do what they want in there.
I let my kids do what they want in their bedrooms. I just was always fascinated to see how girls personalize their own space, so that's why that page exists.
Teen Vogue also has a very distinct look that comes through in the fashion spreads. How would you describe that aesthetic and what direction do you and your creative team give to sustain it?
In the beginning, we worked very hard to establish what the Teen Vogue look is, and now I'm really proud that people will point to something and say, "Oh, that's very Teen Vogue" or "That girl looks very Teen Vogue." That's because we did a good job in the early days of establishing what our style is. It's quirky, it's personal, a little bit eccentric, definitely layered, lots of accessories. It's not a designer look head-to-toe. It's not about being expensive or conforming. It's really about a personal mix. That's the Teen Vogue girl.
How did you go about establishing that look when editing the test issues (2000-2002) and officially launching the magazine in January 2003?
I picked good stylists who spoke my language, visually, the right taste. My job is to find people who understand my vision and taste for the magazine and who can push it. I like it when people push me out of my comfort zone and take me to a place that isn't where I expected to go. I really like that in photographers and stylists, and the best ones take you there because they want to keep growing.
Honestly, every shoot should be a shoot that could only exist in Teen Vogue. And it's a gut thing. The photographers and stylists either feel it in their gut, as I do, or they don't, and then we can't work together. Because you can't explain everything with words — we're talking about a sensibility. But really, that's the best way I can explain it to you.
Given the intuitive nature of the sensibility you're talking about, how do you address or explain that when things are off the mark?
What I say to stylists, if I'm trying to explain why I don't like the results of a shoot is "It looks like it could be somewhere else." If it looks like it could be in a European fashion magazine… Does it look too conceptual? Does it look too arty? Trying too hard? Does it look like it could be in a more junior magazine than ours? It needs to have that Teen Vogue touch. The Emma Watson shoot in August is a perfect example to me. It's sophisticated, it has Vogue quality, real fashion ideas, [a] charming girl, and a lot of life comes through in the pictures. And that's what we look for. Not every shoot is great, but I hope all the shoots are good. And I always want shoots that are memorable, because there's just so much stuff out there. What's the point in putting out more stuff — images — unless they're memorable?
In addition to the Emma Watson cover shoot you mentioned, what is another example of a recent Teen Vogue feature that you consider particularly memorable?
Also in the August issue, we did a story on baggy boyfriend jeans, which have been out there and celebrities have been shot wearing, but we did it Elvis style. The girl had a little pompadour and little loafers, and it just made a big splash in the fashion community. People really latched onto it as fashion looking new.
Given how the Internet has accelerated and affected the news cycle, has this caused you to adjust how you go about curating the print publication, now that you have the Web site to get things out there immediately?
Not at all. I think that they're two different animals. Our Web site is not just an extension of the magazine. We don't just plop the print articles there. We try to give more and different stuff there — things that can't go in the magazine. I think they're equally viable places.
Really, the Web site is really a different way for kids to experience Teen Vogue. I don't edit the magazine differently because of the Web. The thing to me about the Web is that the magazines that have fallen away tend to be gossip and celebrity publications. So, what keeps fashion magazines alive? It's beautiful photography. That core thing that is Vogue and Teen Vogue — which is beautiful fashion photography — we're very fortunate that still isn't really delivered on the Web. People still want to experience it in print.
Teen Vogue has expanded beyond print to gain a presence on a lot of different platforms, from the Web to television, with the MTV reality show The Hills.
Yes, and we're going to do more TV. We're working on another project right now.
Definitely. Fashion U and also the Haute Spot [a pop-up shop and lounge], which is in malls. We're about to do our third one, with our advertising team. It's basically bringing Teen Vogue into the mall, and girls have a space they can come into. We also do a Young Hollywood Party every year in Los Angeles to celebrate our October issue. It's a major party and a big event there.
Is the goal of activities like these primarily to build and strengthen your readership? To build a community?
We have, and we have to, and we want to, but really, what we're about is not social platforms. We're really about education, giving girls opportunities. So we just want to reach them. Maybe we reach them in print, maybe on Twitter, maybe on our Web site, maybe in an email blast. Any way that we can reach them, we'll reach them.
That brings us to The Teen Vogue Handbook. What led you to develop this book and why now?
Over the years, so many girls asked me how to get into the fashion industry, and I just felt that we needed to give them something real, which is this book: a compilation of serious information, combined wisdom. It's about how to get a job, very practical, but you can extrapolate that it's about how to be creative. It's how to have faith in yourself and follow your own path. A lot of girls who think they want to be designers aren't going to be designers, but I think when they read this book, and they read people's stories like Guido [Palau], a famous hairdresser who was kicked out of Vidal Sassoon and told he had no talent, they'll be inspired.
Does The Teen Vogue Handbook have a core message, or do you see it as essentially a how-to guide?
Really, the message that comes through is to think for yourself. Think about what you really like to do, what you really want to do, and do it! I say this to kids everyday — whether they're in my office, the interns, the people who email me — and it's a cliché and I know it sounds Pollyanna-ish, but you can do the things that you want to do. I'm always saying to girls, "You do have the power to pursue your path." I'm not saying if you tell me you want to be an actress, you're going to be Cate Blanchett, but if you want to be actress, you should go pursue being an actress. Maybe you're going to end up managing a theater, maybe you're going to end up in PR, I don't know, but you can work within an industry that you love. And that's how I feel about fashion, too.
You've remarked upon how, in the six years since Teen Vogue launched, you've been struck by how the questions young people ask you have changed from "Have you met Justin Timberlake?" to "How can I get an internship?"
This is what's shocking and amazing. Kids move fast — many of the teen magazines, such as Teen People, which was a huge success, now they're gone. The world is moving fast, and you have to be ahead of it. You certainly have to keep up, ideally be ahead of it, and you have to be offering something different from what everybody else has. That's what we try to do at Teen Vogue.
When I started working on the test issue of Teen Vogue [in 2000], the girls all wanted to be a model. Or they'd say, "Do you know Britney Spears?" But now, sometimes people will ask me if I've met a celebrity, I'll get that a little bit, especially from younger girls, but the older ones say, "Tell me about you. Tell me about your job. Tell me about so-and-so's job on your staff. How do I get an internship? What should I study in college?" It's relentless. I try very hard to give them real information — something they can work with. I've always felt very strongly that every kid who is interested in Teen Vogue and what we do, we owe it to them to give them back as much as we can.
That belief is manifested literally with the CFDA/Teen Vogue scholarship, which the magazine awards annually in partnership with Target. How did that program come about?
So many kids say, "I want to be a designer." So you find yourself cobbling together an email for a million different people, saying try this, try that. But the scholarship was a way to say, look, we are going to support you. You have to apply, and it's a full-on process with mood boards, transcripts, and recommendations. But if they get through all that, we know that they're serious and then we do a selection process. Designers — Proenza Schouler, Phillip Lim, all of these people — have helped me choose the winners. We just chose our third winner, and the top winner gets $25,000 to go to design school. It's major. It's a major thing for a high school student to find out in the fall of their senior year that they're getting $25K, or $5K for the runner-up, from Teen Vogue. It's a way for us to put our money where our mouth is to give back to them. It's important to us to show our support for young people, to support young design talent, and to be specific: You want to be a designer? Okay, we're going to help you.
So education is always something you're thinking about?
Yes. Our bigger picture is education. Even [with] The Hills, it was a fluffy show, but the two girls were interns, and they were struggling with questions such as "How do I balance my personal life and my work life?" and "How do I have a career?"
It's interesting, because that educational focus comes through in many of the magazine's features, but you're not beating people over the head with it.
The thing I always say, too, is that I came into this thinking, "I'm a fashion person. I'm making a great style magazine." Oh, no! Within a short time, a year into it, I thought, "Oh my God, I am a guidance counselor, an adviser." I write to them. I mean, the kids want guidance. They see you as inspiring. When I say "you," I mean the magazine, the magazine's world. They see our world. I say that in the book: "Welcome to our world," the creative world. They see us and everybody who works here as role models, because we have an interesting career. They see that we're passionate and that the product we create is a wonderful product. It's transporting them, and they want to be part of it. So, they kind of forced it on me. The idea came from them that, "You're going to help me make the life I want."
Does that responsibility — to act as a kind of guidance counselor as well as an editor-in-chief — ever overwhelm you?
I am personally involved with a lot of girls who have come through Teen Vogue over the years. You can't touch everybody in a personal way, but I hope that the things we do, like Fashion U — 500 kids come through every year and they love it — will touch them personally. The book will touch them personally, and the magazine does also. They really want to be inspired and guided, and there's a lot of yucky stuff out there for kids to look at and a lot of, I think, really degrading images of women out there in pop culture. And I hope that when they're in the world of Teen Vogue they see yes, it's about beauty and enjoying fashion, but we're also very much about their careers and their health: the whole picture. We care about them.
[This interview has been edited for length and clarity.]