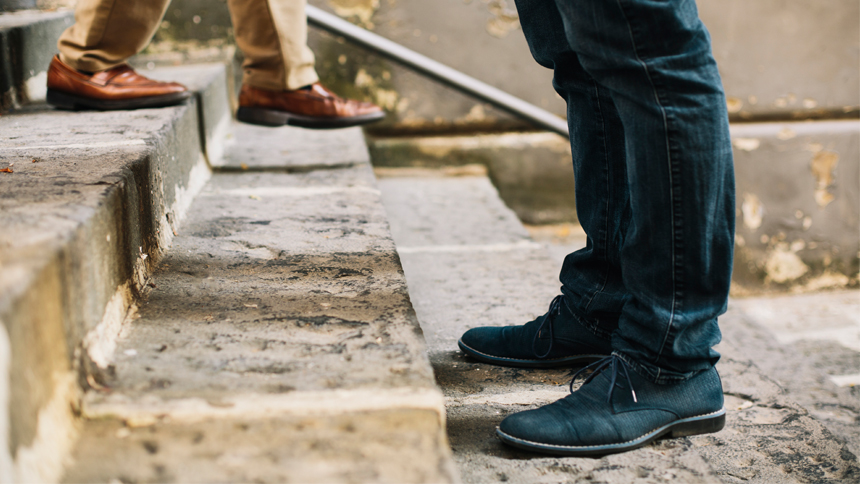 Are you a reporter who's been thinking about becoming a publicist? Or a radio producer who wants to reinvent yourself as a social media maven? Those occupational questions beg the follow-up: Is it even possible to transition to a different career in the media business without having to pay your dues all over again?
The answer to that question is a supportive "yes, it is possible," according to the media career experts we talked to, but you'll still likely need to brush up your skills in certain areas. Read on to take what you already have to offer as a media professional and parlay it into a new opportunity.
1. Research Your Dream Job Description
Say you're in magazine editing, but want to move over to email marketing. Do your skills translate? If you want the answer, be prepared to do your research. You can start by looking at a sample of email marketing manager job descriptions.
Next, ask yourself if you've ever done any of what is described so you can evaluate how practical your transition will be. Better yet, pick the brains of those who have the job you want.
"You really have to do your homework and talk to people who made it there. That's part of your research process," says Allison Hemming, president of The Hired Guns, a top interim creative talent agency in Manhattan. Then, look for "similar trajectories" of careers that you think you should model yours after.
"Ask around! Is it something where you can enter in and be super-industrious, or do you really need to go get training and start at the bottom? And then manage your own expectations accordingly," Hemming says.
Spending time with the right individuals may help expedite your research; those people can provide you with valuable insider information that will give you a leg up on how to position yourself for the job you want.
But Hemming says, if your skills truly are lacking or you're looking to do a complete career change, you might—just might—have to start at the bottom. That can actually benefit you, because you won't "miss out on certain skills that you're going to need as building blocks for your career," she says.
"When undergoing a career change, it's actually quite difficult to do a straight up lateral move, particularly in this economy. So don't obsess about having to start at the bottom. More often than not, you will end up coming in a rung or two lower. Stop thinking of this as a complete downside. There are things that you may still need to learn," Hemming says.
2. Optimize Your Transition with SEO
When you think SEO—search engine optimization—you think of what's happening online to drive traffic to websites, right? Well, maybe it would be wise to approach your career transition as an SEO specialist.
Sharon Jautz has spent more than 30 years of her career working in human resources for the media industry. Now, she works as director of talent acquisition at SANDOW.
Over the course of her own job search, Jautz says she wasn't getting the kinds of opportunities coming her way in other industries like finance and insurance because her resume "screamed media." What did she do? She took the focus off of her media background and put it onto her HR experience.
"I got rid of my objective or my summary at the top, and I used keywords that can fall into any industry, [like] career-coaching, crisis management and managing compensation structures. So then it became, 'Oh, she can do that!," and less on "And oh, she worked for these companies." So for example, if you're a radio reporter who wants to be a television news director, highlight your "news chops," says Jautz.
You could even emphasize your relationships with newsmakers and ability to manage a crew—skills that are critical to both radio and television news. Think of the skills you have that can translate from job to job, and use keywords that can apply to both your past experience and your future ability to succeed.
A word of caution: It's crowded enough out there in the job market. This is especially true if you don't have concrete experience in the sector of the industry you want to move into without starting at a lower level in seniority than you have now.
"The problem is, in this quirky, kooky, wacky job market, you don't have to really over-think these things. If you don't have broadcast [experience], you don't have broadcast [experience.] There are plenty of people with broadcast [experience] out there. So this is a tough time to be rethinking your [career] strategy," says Jautz.
3. Think Like an Entrepreneur
If you have no hard-core skills in radio, new media or whatever part of the media business you want to transition to, other attributes like being highly organized and creative can be just as important.
"If you are a quick learner, if you have an intellectual curiosity, that's more important than experience," says Michelle Madhok, founder and CEO of SheFinds Media.
Lucky breaks, being in the right place at the right time and creating opportunities for yourself are all ways to get your career transition on the right track. And it can really happen. Take it from Madhok, who seized on an opportunity to make a transition without starting at the bottom.
In 1995, Madhok was at CBS Broadcasting working in the entertainment marketing division when she was asked to take the lead on CBS.com. "They said, 'Do you do Internet?' And I said, 'I have an AOL account.' And they said, 'You are in charge of CBS.com,'" recalls Madhok.
After working at CBS for a few more years, she moved over to AOL where she was hired to create what became one of the most highly trafficked online women's channel on the 'net. In 2004, she founded SheFinds.com, and added MomFinds.com a few years later.
What's important to glean from Madhok's experience is that you can get a break, if you have your eyes open and are ready to seize the opportunities. It also helps if you, like Madhok, know how to create quality content: Being a good writer or editor or having a sense of what kind of information people want holds currency wherever you take your media career.
4. Immerse Yourself Online
Looking to make a move into digital media but you've never blogged, produced a podcast or managed a Google AdWords campaign? The good news is it's easy to get experience.
Become an expert on your own time, either through classes or just playing around. Start a blog. Develop your Twitter feed into a destination for hundreds or thousands of followers. Produce content that people want to see.
Networking can give you an inside track of who the big employers are and what the professional culture is like. Use social networking tools like LinkedIn and Twitter to collect intelligence about what jobs are available and how competitive you might be.
"You sort of want to infiltrate [the field] before you actually join it. So when you do start talking to people about what you want, and you start going on interviews, you can talk like you are already an insider and a colleague rather than somebody who's making a career change. People also appreciate that you are so passionate about it that by the time you're actually ready to make the move, you've already kind of become part of that area," says Lindsey Pollak, author of Becoming the Boss.
5. Make the Leap
If you're having a hard time making the leap without demonstrable experience, Pollak says you can get some through volunteer work, or even by helping your friends out.
"People who start up styling businesses started by going into the closets of their friends. People who wanted to go into cosmetology would do the makeup of all of their friends before they [got hired]," she says by way of example.
Once you do have that experience, show off your results, because that may be what matters most to employers who are open to hiring candidates without line-by-line experience. Talk about everything in terms of what you accomplished.
"So rather than saying, 'Volunteered to do PR for an organization,' you want to say something like, 'Wrote one press release a month for nonprofit organization and generated 50 media hits," says Pollak. If you're a high performer and can communicate that well, you will be well on your way to making the jump from one media career to another.
One of the best ways to fast-track your career transition is by learning a new skill. Mediabistro offers course in today's most in-demand skills like Social Media Marketing, Email Marketing and Content Marketing.