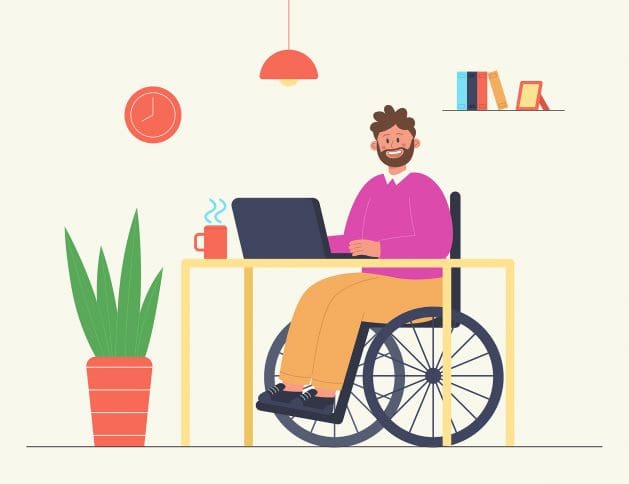 Once remote work gained popularity due to the COVID-19 pandemic, many companies with office spaces decided to re-think their plan to work together in person. While a portion of businesses require essential workers, a large majority of companies can operate on a remote or hybrid level, which also means they're now more inclusive.
And with The Great Resignation, most employees are in favor of this type of work. According to a recent survey, 74% of professionals expect remote work to become standard.
Research shows a positive uptick in remote work—and positive benefits that come from it.
LinkedIn Changemaker and disability inclusion consultant, Martyn Sibley, said: "Disabled people face many barriers in daily life. Workplace barriers are the most disabling for two reasons – because work provides us with financial independence and is also fulfilling mentally. Flexible working can help remove some of these barriers and create new employment opportunities, which is extremely positive for disabled people, employers and society as a whole. As companies consider what the future of work looks like, I'm hopeful that they will use this moment to redesign work to make it more inclusive for all."
Here are some ways in which remote work is inclusive.
It allows flexibility for parenting
Without a commute and having to be in an office all day, parents of children of all ages have more flexibility when arranging daycare, scheduling pickups to and from school, and being present at home.
Also, statistically, women are the primary caretakers in our country and have to adjust their careers more than men do. If women are in this position, remote work allows them more freedom to be both a parent and an employee.
It's more economically inclusive
Before the pandemic, many employees not only commuted but super commuted—meaning they traveled more than 90 minutes each way, mainly due to the economic limitations that come with living in a more populated (or popular) city.
Now, due to the uptick of remote roles, people no longer have to live in the same city as their company, saving money and allowing flexibility to travel or live anywhere in the U.S.—or abroad depending on their company's rules.
It benefits employees of color
Unfortunately, people of color who work in predominantly white offices are likely to experience racism of all types.
"Employees of color face microaggressions and friction in the office on a regular basis," Subramanian says. "When that happens in-person, there's more pressure on the employees to grin and bear it, or ignore the comment, whereas in a remote environment, there's the freedom to close your laptop and walk away, and less opportunities for microaggressions to happen in the first place," Sheela Subramanian, the vice president of the Future Forum said.
It's more accessible for people with physical or mental limitations
Did you know that over six million people in America's workforce have some form of disability? Both commuting and in-person work limit people with disabilities, depending on their nature.
Additionally, a recent Wall Street Journal piece examined how the pandemic has created a new space for neurodiverse candidates within cybersecurity jobs. It highlights how video conferencing features specifically are particularly helpful for people with ADHD or those with auditory processing disorders.
Ultimately, remote work has proven to open more doors than the traditional in-person office model does. It's proven to produce the same or more levels of productivity while also catering to a more inclusive community.