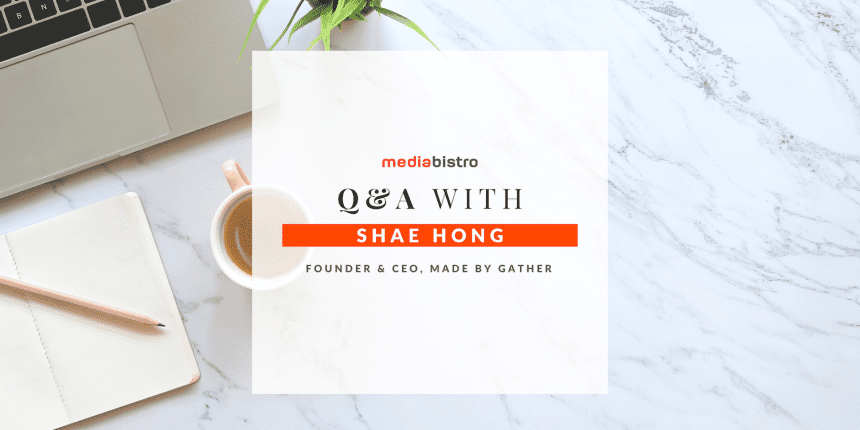 In this Q&A, Shae Hong, Founder & CEO of Made by Gather shares his thoughts on hiring via social media, his career journey, and tips for entrepreneurs.
1. We recently interviewed your new hire, Sophie Jamison, who is now Chief TikTok officer for Made By Gather. Do you think roles like this one will play a large role in a company's marketing strategy in the future? If so, how?
TikTok is something super disruptive and different and we knew we needed to embrace it with a different process. It's been so incredible having Sophie on the team and watching her develop each brand's tone of voice and how they uniquely show up on TikTok. Our goal is to own the kitchen and home category on the platform and I think as social media continues to change the game for how consumers think and shop and interact with brands, it will continue to play a huge part in our marketing strategy.
2. Are there other innovative marketing strategies that you see becoming trends for companies in the future? What are they?
Obviously AI is going to be game-changing across the board. As someone who loves design and marketing, I'm interested to see how it transforms the design process and things like trendspotting and personalization. 
3. Tell me a little bit about how you started your career and got to where you are now as Founder & CEO and Made By Gather.
Since the beginning Made By Gather has been focused on developing kitchen brands for the younger generation. After my first startup had failed I looked at the kitchen category — simply because my first investor had been from that space and I wanted to dig in a bit. As I digested what was currently out there and available, I didn't feel like there was anything designed for me. Then – and still now – there are a lot of products made for the kitchen that look similar…black, stainless, everything fits the same mold.

Made By Gather was early to the game in terms of targeting a younger customer that was looking for a better, more unique design. And it continues to be at the core of our mission – to inspire the next generation and redefine home cooking and home decor through innovative and thoughtfully designed kitchenware and home products.
4. What inspired you to start your own company?
I was inspired and driven by the idea that I could do it better. While on one hand I was a bit naive and in that "I know everything" stage of life, on the other I felt there was an opportunity to step out and do things differently.
5. Do you have any advice for aspiring entrepreneurs?
I love the lyric by Jay-Z – "Difficult takes a day, Impossible takes a week." As an entrepreneur it's important to remember that it's a marathon, not a sprint and figuring that out early is the best advice I can give any entrepreneur. Applying that to how you build, scale, and operate in all aspects of your life is vital…you need to build up your muscle tone for the necessary strength it takes to overcome all the adversity you will face.
Interested in a creative gig? We have some open jobs for you!