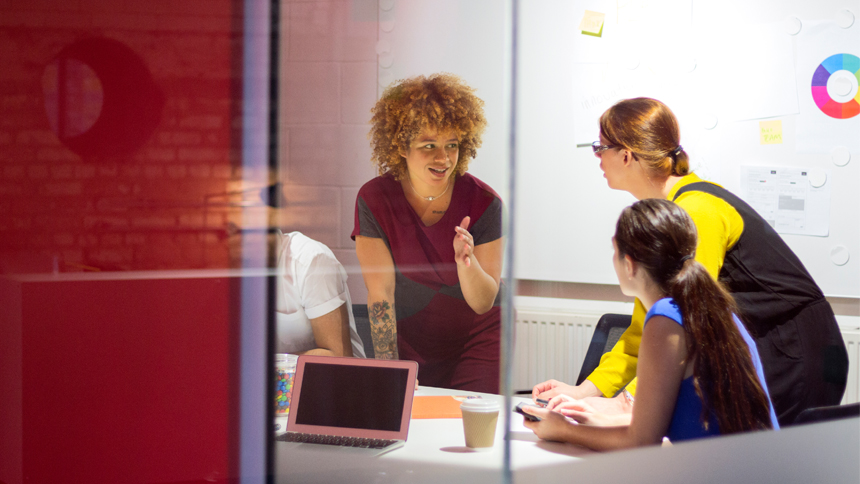 In a world of bloggers, influencers, social media managers and content marketers, job seekers may wonder where all the "normal" jobs have gone. Good news: They're still there, just under different titles, with slightly more nuanced skill sets.
One of the most popular new career options is working in content strategy, a field that traditionally combines skills of journalism with the savvy of a marketer to help brands and companies understand how to best position their content in a digital realm.
Technically, content strategy has to do with the planning, development and maintenance of content in any form—from written to visual and print to digital.
Content strategists can come from any number of fields. Today, some students may leave college or graduate school with the desire to be content strategists, but the best (in our humble opinion) grow into it from fields of media/journalism, design and user experience.
The skill sets may be diverse, but the traits of a good strategist are similar: Organizations hiring a content strategist are acknowledging the need for an individual or a team to fix a content problem, likely on their digital channels. The person in charge needs to be an excellent communicator, a deft negotiator, and a get-it-done personality who isn't afraid to roll up his or her sleeves and dive into what is likely a mud-filled pit of snakes, secrets and more.
The best content strategists will have to think like marketers, write and edit like journalists, analyze like data scientists and speak like developers.
So, how to do you get there? Here are three common ways:
The Writer / Editor Turned Strategist:
Writers and editors are perhaps the most likely to look for a career in content strategy, because they've basically been doing the role for years already. Magazine editors are already familiar with the basic principles of auditing (finding out what has been done before), content planning (after all, editorial calendars are a print concept) and creative presentation (hello, visual layout).
What to Master: Most commonly, writers and editors need to know how not only to see the facts and report a story, but also to shape that story with a marketing eye towards what helps move the needle from a brand or business perspective. They'll need to feel comfortable repackaging and re-formatting the same content to fit different mediums, and using digital-first techniques like search engine optimization that aren't print focused.
Biggest Struggle: Writers must show that their skill is more than just putting fingers to keyboard, and that they're not just copy creators, but part and parcel to a company or brand's overall strategy.  
The Developer / User Experience Pro:

Content strategy is a digital-first field where data rules decisions. User paths, journeys and experience are integral to a content strategy that works for your organization, so it's only natural that some tech pros would take up the mantel of strategist for their organization.
What to Master: Developers are often so focused on how something works that they forget the magic of content strategy is in creating sticky, engaging content. SEO is not just technical in nature, but also reliant on storytelling that brings users back again and again.
Biggest Struggle: Data isn't always sexy or interesting. Make sure to show senior management exactly how data can impact the bottom line, but still leave room for creativity too. Remember that just because something didn't work once doesn't mean that it won't work again if done differently or with better execution.
The Creative Type:
Content that hooks the user increasingly takes forms beyond the written word—from infographics and slideshows to videos and data visualizations, there are many ways to tell a compelling story. That's part of the reason that savvy creative professionals turn to content strategy—they don't just want to tell someone else's story, they want to help shape the narrative as well.
What to Master: Many creative pros are given a list of requirements and told to create a narrative. The best strategists see content as part of a spectrum that aids a user at all phases of the sales funnel, and can help create content to touch each part of the user journey.
Biggest Struggle: Creative types will also need to be able to present the "why" of the equation to senior management—not just how a story looks enticing to the user, but how it will be backed up with data to drive a return on investment, or ROI.
McLean Robbins is a content strategist, copywriter, digital consultant and instructor of Mediabistro's Blogging, SEO Writing and Content Marketing classes. Find her at mcleanrobbins.com.