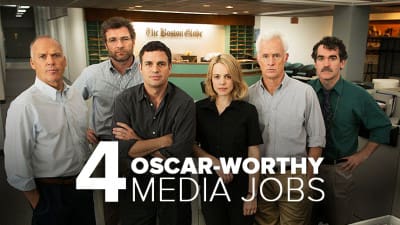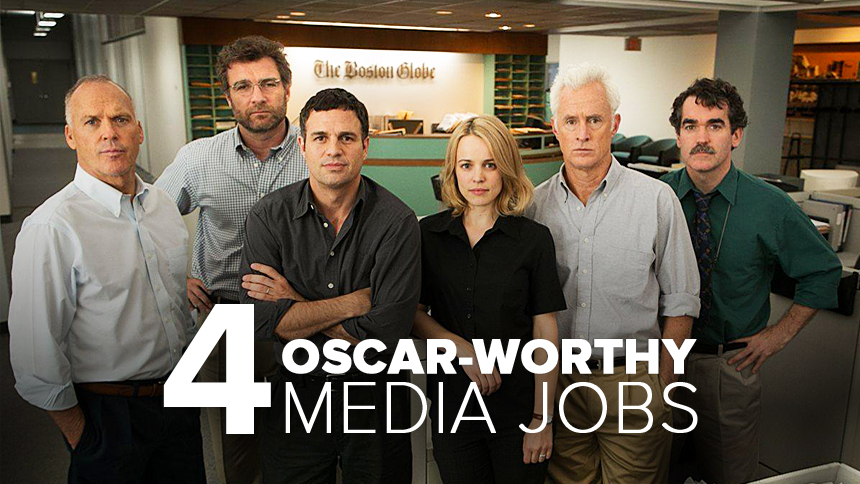 It's Oscar season, and with several of the nominated movies featuring careers in digital media, we figure it's our job to show you how to grab one of those careers yourself.
Warning: This article has a few near-spoiler alerts depending on how insanely little you like to know about a movie before seeing it.
And the nominees are…
1. Investigative Journalists in Spotlight
In this ripped-from-the-headlines drama, The Boston Globe's Spotlight team—a small crew of investigative journalists—work to investigate and uncover dark secrets from Boston's past. Spotlight stars some of Hollywood's biggest names such as supporting actor and actress nominees Mark Ruffalo and Rachel McAdams.
This film gives a real feel for the workaday life of an investigative journalist, as the Spotlight team dig deep into a single topic—in this case, allegations against the Catholic church.
Essential skills for becoming an investigative journalist are curiosity, skepticism and the ability to effectively uncover hidden stories through powerful writing. While a journalism degree is always helpful, a course on editorial skills can a give you taste of different roles in the field.
2. Public Relations Director in The Martian
Presumed dead by his crew after a space storm, Mark Watney—played by leading actor nominee Matt Damon—is left behind on Mars, leading to big time media attention.
Luckily, NASA's rockstar public relations director Annie Montrose, played by Kristen Wiig, schedules hourly press conferences, turning what could have been a giant disaster into a huge PR win for NASA.
Want to become the next Annie Montrose? While a degree in mass communications is a great place to start, public relations is open to professionals from a variety of backgrounds, especially former journalists.
Want to fast-track into the field? Consider taking a course in public relations, or getting an internship in the field, as on-the-job experience is crucial to the field.
3. Screenwriter in Trumbo
Starring lead actor nominee Bryan Cranston as Hollywood screenwriter Dalton Trumbo, this autobiographical drama focuses on the famed post-War Hollywood Blacklist. (And that's all we'll say in order to stay somewhat spoiler-free, as promised.)
Much like a Hollywood screenwriter, many of today's digital media jobs require versatile storytelling skills. Whether you're an aspiring brand content writer or copywriter, developing a brand or client's story and communicating it to customers is key. A course on brand writing will help you hone your storytelling skills as you learn to generate a brand's basic story, mission and positioning statements.
4. Marketing Director in Steve Jobs
This biographical drama opens with Steve Jobs and Steve Wozniak preparing to unveil their first Macintosh in 1984. Supporting actress nominee Kate Winslet portrays an original member of the Apple Computer Macintosh team, Joanna Hoffman.
In real life, Hoffman ran the entirety of the marketing department for Macintosh in its early years, and later ran the international marketing team, bringing the Mac to Europe and Asia markets.
To become a marketing director, you've got to start somewhere, often as an intern or junior marketing associate on your way to becoming a marketing manager. Learning and mastering the fundamentals, and the ever-changing trends and technologies, is also vital. A great place to begin: a course on marketing, in which you can learn best practices for digital campaigns or how to tap the power of social media to promote your product.
If one of these careers sounds like a winner to you, then check out Mediabistro's online courses to take the first step in breaking in. With courses in public relations, digital journalism, digital marketing, brand writing, marketing and more, you'll have the opportunity to work with top industry professionals as they guide you on your journey to a job so awesome they make Oscar-winning movies about them.