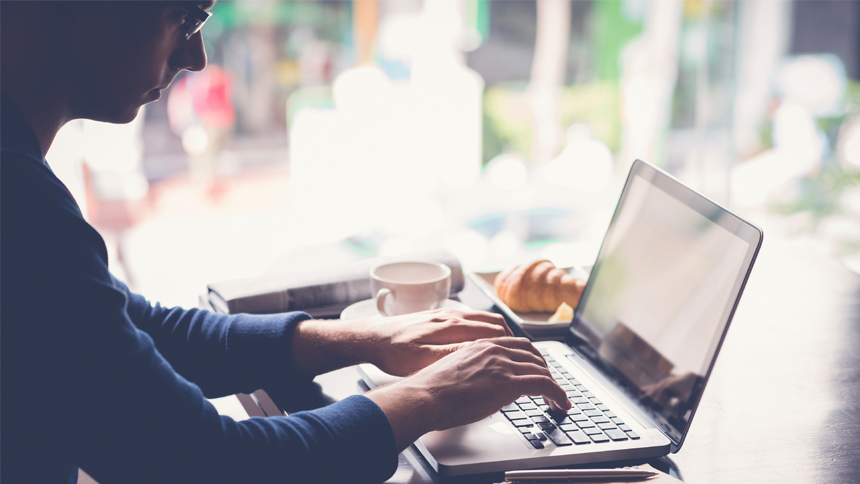 There are only two focal points in a cover letter: the position and you, the applicant. So, if you want to land the job, you better clearly state the connection between your experience and the employer's requirements. Merely swapping out greetings and company names with each submission doesn't cut it.
"If you can't write a cover letter, I don't want to meet you," says Jane Turkewitz, founder and chief talent officer at .comRecruiting. "I really think that a well thought out cover letter says a lot about your work ethic, your thought processes and your ability to market yourself."
The key is showing that you don't simply want a job, you want this job. Here are six crucial tips to proving you're the best person for the company and the position, by way of your cover letter.
1. Use a Skill-Based Template
Sure, it can get a little tedious writing new cover letters and resumes for every position. Instead of relying on canned form letters (which, by the way, recruiters hate), Turkewitz suggests creating templates, which allow applicants to pull information and tailor a cover letter for any employer.
Create sections of your templates that include your qualifications, experience or why you would be a fit for the position. This helps to avoid common pitfalls, such as sending letters to incorrect hiring managers or company addresses.
"If you can't take the time to write a custom letter," Turkewitz says, "the hiring manager or recruiter will not think that you are serious about their job."
2. Tailor Your Message to Your Audience
You can take this method a step further by organizing your templates for each of your strengths or fields of interest.
For example, if you're a journalist who excels in new media and sports reporting, you might create one cover letter that focuses on your reporting and editing skills for a newspaper position, another that highlights your Twitter know-how for digital companies and still one more that's sports-specific for a basketball blog.
Then, instead of starting from scratch each time you're applying, you already have a custom framework based on the requirements of the position.
3. Craft a Strong Lede
Writing a cover letter is no different than writing a news story — it should hook your reader early. "Open up, draw me in. Make me want to read you," says Turkewitz. "My biggest pet peeve is reading, 'Oh, I heard you had a job open.' Okay, we know that; you're applying for the job. Let's start with a really strong opener that really sells who you are."
Opening your cover letter with a statement about your experience and accomplishments says much more than merely stating your name and where you reside. Be original in how you project yourself, especially if the position calls for some creativity.
4. Know the News
Hiring managers in the media business want to know that you're up on the latest happenings in the industry. So, whether you're applying for a position as a graphic designer or SEO whiz, convey your knowledge of the company or organization.
Are there recent press releases or news reports about the business? If so, refer to those developments in your cover letter, and relate them to how your skills and experience can contribute to the company.
"Company news alone wouldn't compel me to read someone's resume," says Sharlyn Lauby, author and publisher at the HR Bartender. "What would stand out is if a candidate can connect it to the position they are applying for or how they can use it to bring value to the company."
5. Give 'Em What They Want
Your cover letter is your place to sell yourself for the job, but it also needs to include other vital information the employer has requested in the application, such as salary or location requirements.
"Candidates need to provide a recruiter what they ask for," explains Lauby. "It not only helps the process, but it demonstrates that the candidate is thorough and can follow instructions."
"You need to explain that, 'I realize that I am in Dallas, but I am willing and able to get to New York for interviews as needed, and willing and able to relocate quickly and at my own expense should an opportunity arise,''' says David Gaspin, senior director of talent and human resources for tech consulting firm InRhythm. "If I don't see that, I think you're looking for a job in Dallas."
If a job posting requests your minimum salary and you leave it out, you might not get the interview. Similarly, if you live in another city and make no reference to relocation, hiring managers may be reluctant to even consider you. It's up to the applicant to use the cover letter to express sincere interest in the position, even though it could be thousands of miles away.
6. Cite Relevant Experience
It's critically important to align your strengths with the duties listed in the job description. If the posting requires knowledge of CSS, you might say "I designed blog layouts and built websites using CSS. I used Dreamweaver regularly in my previous position and am a whiz at HTML."
If they want "an ability to write great display copy for magazines," explain how you wrote heds and deks for your previous employer's print pub and website. Just be careful not to overdo it.
"This can be tricky, especially if the candidate has experience in many areas but is a little light in others," says Lauby. "Focusing on strengths versus doing a laundry list comparison might present the candidate in a better way."
If you'd like your cover letter to stand out even more, consider getting the help of a pro. Mediabistro's Career Services offer everything from a quick cover letter edit to several sessions of career counseling to tackle your cover letter, networking skills, career transition and more.