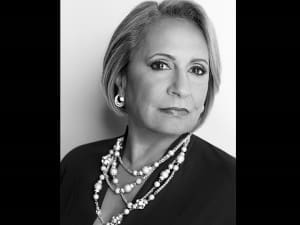 "Mogul" in its present overuse, is like the retired boxer of dictionary words: it used to pack a lot of punch, but now it's gotten kind of flaccid and nondescript. Cathy Hughes doesn't care much for the term either, especially when it's being used to describe her.
"I'm not a mogul. I hate that title because I'm still very much a work in progress," she insists. Still, its root definition seems a nail-on-the-head way to describe a woman who founded Radio One in 1980, growing it into the largest Black-owned radio chains in the country with 53 stations across 16 markets, oversaw it as CEO for 17 years, then launched its sister network TV One in partnership with Comcast in 2004.
Hughes' ascension to the executive suite only reads like a fairy tale, though. Before becoming the first woman to own a radio station ranked #1 in any major market and the first African-American woman to head a publicly traded company, she was a divorced single mother who lived with her son in the office space of her first station until she could turn a profit.
Here, the urban media specialist — and sometimes controversial figure — chats about journalism, family business, and not sweatin' the competition.
---
Name: Catherine Hughes
Position: Founder, chairperson of the board and secretary of Radio One. Founder of TV One.
Resume: Began career in 1969 at KOWH in her native Omaha, but left for the nation's capital after being offered a spot as a lecturer at Howard University. Named general sales manager of WHUR, the campus radio station, in 1973; promoted to general manager two years later. In that short time, Hughes had taken annual revenues at the station from $300,000 to more than $3.5 million. In 1979, Hughes and then-husband Dewey Hughes sought financing to purchase their own radio station and were rejected by 32 banks until they secured lending to buy WOL, a small Washington, D.C. station that birthed Radio One in 1980. Almost 15 years later, launched TV One, a network targeting African-American adults and presently available in some 38 million households.
Birthdate: April 22
Hometown: Omaha, NE
Education: Studied at University of Nebraska-Omaha and her father's alma mater, Creighton University, but never completed her degree
Marital status: Divorced
First section of the Sunday Times: Metro
Favorite TV show: Unsung
Guilty pleasure: "Ice cream. All flavors, all kinds, all brands."
Last book read: The Stieg Larsson series: The Girl With The Dragon Tattoo, The Girl Who Played with Fire, and The Girl Who Kicked the Hornet's Nest
Twitter handle: None
---
You were inducted into the Radio Hall of Fame. Now that you've also transitioned into television, is radio still your favorite medium?
Absolutely. No question about it. Radio provides instant gratification. We could go on air and say that a family is in need and immediately get people responding and being of assistance to them. Radio gives you the ability to reach out and assist immediately.
Radio One and TV One are multimillion dollar businesses. How were you able to grow both as independent companies and compete against huge broadcasting corporations?
When you're community-based, your audience knows that you're different than a facility that's there just to entertain them. So you have a different relationship, a more meaningful relationship. We literally outsold our competitors because although we were outresourced by them — meaning they're much bigger with more money and more people — they were not able to outservice us.
TV One has been making serious inroads against BET with shows like Unsung and Life After. When you first launched the network, what niche were you aiming to fill that BET wasn't?
An older demographic, an adult population. BET is more youth-oriented. We were more concerned with providing quality programming for African-Americans over the age of 30. BET's target audience has always been younger and now their average age is like 20.
They lost all of their beer business because their median age was not 21 and when the information became well-known that they are basically a teen network, the liquor companies could no longer advertise with them.
With the launch of the Centric network, do you feel like they're trying to encroach on your market?
I think they're setting themselves up to be competitors, but it hasn't even begun to scratch the surface because Viacom is not a Black corporation, and Black viewers are very sophisticated about Black ownership now.
At one time, I think a lot of BET's popularity and reach had to do with it being Black-owned. And Black people were like "this is our network." Even though it was young, it belonged to the young people who watched it. They no longer have that relationship with the African-American consumer. They're owned by the same company who decides what's going to be on MTV and VH1, so there's no relationship there.
TV One debuted Love That Girl, its first original sitcom in 2010, but it received a lot of negative reviews from the press and viewers who thought it was too stereotypical. What did you learn from that experience and do you have plans to do another scripted series?
That was a pilot, sweetie. The ratings were through the ceiling. We just produced 26 episodes and it's our first scripted sitcom. Let me tell you about Love That Girl. It's my dream come true because it's produced by a Black production company in a Black-owned studio — the only Black-owned studio in Los Angeles — and it's a Black sitcom aired on a Black network.
We've got four areas that African-Americans have historically been closed out of. So those four episodes were a test and proved that that's what our audience wanted to see. Twenty-six episodes means it'll run a whole year. It's something that's never been done. I'm really excited about it, as you can tell.
What do you foresee for radio's future now that the digital age is making traditional radio formats seem so old school?
Oh, I think radio will continue to reinvent itself. I think it will remain the number one way to reach communities of color. I don't think that's going to change.
Because the competition for airtime is so stiff, what advice would you give to those radio personalities looking to stand out and break into large markets?
Be persistent and be willing to go into a smaller market to get discovered. Sometimes you can't start off in New York. Maybe you have to start off in a St. Louis and get moved to a New York.
 Your son Alfred Liggins is chairman of TV One and CEO and president of Radio One. Is it your plan to step down one day so he can fully run both companies?
He's already responsible for running both companies from an operations and administrative standpoint. I would hope never to step down as long as God blesses me with good health because, with him doing the operations, it's freed me up to get more involved in the community.
We just turned 30 years old this year and, instead of the usual parties that most people have to celebrate their anniversaries, we paid our staff — all 1,800 members — to volunteer at various organizations in the community. That was a project that I was charged with overseeing. So, not having to actually run the radio stations has given me more of an opportunity to get involved in the community, which is my first love.
What's the dynamic of you two working together?
At first, to be honest with you, it was quite challenging. All family businesses are challenging because it's like, "hey, this is the kid who used to need the key to the front door. Suppose he loses the key to the office?" But he and I have done it for a long period now, so the kinks have pretty much been worked out, and we have a fair division of labor.
Radio One bought out the struggling Giant magazine and made it an online publication. Would you ever launch or buy another print magazine?
Not in this environment. The reality is that magazines are quite challenged because people primarily get their news from the Internet now. They don't read magazines or newspapers. Giant's online reach now covers about 82 percent of the entire Black community. It adds another leg to our platform.
What was your lowest point before you reached this level of success?
I don't view things as lows and highs. Business has its ups and downs and everything in life is a cycle. Everyone's life has ups and downs, so I don't take it personally. As the Good Book says, "this too shall pass away" and I live by that adage that bad times will not only pass but so will good times.
I've had challenging times, but it's kind of dangerous to say what was the lowest because you don't know what the good Lord has in store for you in the future. It may be yet to come.
This interview has been edited for length and clarity.