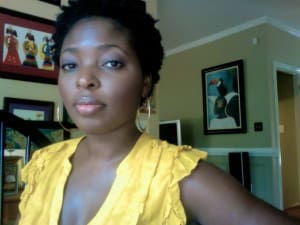 Most writers' love affairs with words usually begin with a pivotal book or a poem, maybe even an especially moving piece in Highlights. Denene Millner's blossomed reading the lyrics on the back of a Stevie Wonder album cover when she was a kid. "I don't remember thinking I could write something like that. I just remember falling in love with the words. What nine-year-old does that?" she told us with a laugh.
Funny as it may seem now, it's a good thing she did. An award-winning journalist and the author of 21 books and counting, Millner has married her interests in African-Americana, politics and entertainment with her natural curiosity as a journalist. Her latest project: ghostwriting a memoir on a famous black opera singer.
Here, the media triple threat talks about writing for celebs, becoming your own brand and building a business out of necessity.
---
Name: Denene Millner
Position: Journalist, author, ghostwriter, columnist and founder of mybrownbaby.com
Resume: Recruited by The Associated Press straight out of college, working as a political reporter in New York and New Jersey. Transitioned to entertainment and political reporter at the New York Daily News. Held executive and features editor positions at Honey before becoming editor at Parenting. Founded mybrownbaby.com, which was named one of Babble.com's Top 100 Mom Blogs of 2011. Author of 21 books, including ghostwriting Steve Harvey's New York Times-bestseller Act Like a Lady, Think Like a Man and My Brother Charlie with Holly Robinson Peete.
Birthdate: October 21, 1968
Hometown: Bay Shore, Long Island
Education: B.A. in communications from Hofstra University
Marital status: Married to fellow journalist Nick Chiles
Media idols: Melissa Harris-Perry and Rachel Maddow
Favorite TV shows: Scandal and Melissa Harris-Perry. "And, I'm almost embarrassed to say it, but I really dig Black Ink on VH1."
Guilty pleasure: Reality TV
Last book read: And So I Sing by Rosalyn Story and My Lord, What a Morning, the autobiography of Marian Anderson
Twitter handle: @mybrownbaby
---
Act Like a Lady, Think Like a Man was a huge success for Steve Harvey. How does ghostwriting or co-authoring a bestselling book of that magnitude help your career if your name isn't the headliner?
It opened doors for me for other projects, because when other celebrities are considering who should write their book, they're going to see my representation and my reputation as a writer. You know, New York Times-bestselling writer and top-selling book of 2009 is a hell of a calling card.
In some other ghostwriting projects, my name hasn't even been on the spine or the title page, but I try my best to negotiate that so that somebody knows I wrote it besides my family. It opens a lot of doors for more work, which is kind of awesome.
It's all any writer can ask.
What's the difference between ghostwriting and co-authoring and how did you make such lucrative connections?
Ghostwriting means that a celebrity approaches you and you work with them, sort of dig into their mind about what they want to deliver in book form, and then you're responsible for writing it.
So I'll interview the person, get as much information as I can out of them, do research and then write the project, but the other person's name is on the book, and there's no indication whatsoever that I wrote it. You might be able to find my name in the acknowledgements if that's been negotiated in the contract and they lived up to it.
I've had a couple of projects where they were supposed to acknowledge me and it didn't happen, and there's really nothing you can do because the book's already been published.
A co-author is someone whose name is included in the book. You do know that that person helped the author to write the book, and so in that instance my name is either on the cover, on the spine, on the title page or in the acknowledgements.
My first co-writing project was a children's book. I was approached by an editor with whom I've worked before. She knew my reputation and my ability to get things done and asked me if I'd be interested in writing a book. I said, "Of course." That was a ghostwriting project that opened the door for me to do a second book, a co-writing project, with Holly Robinson Peete.
The Steve Harvey co-author partnership came from another editor that I worked for. She was familiar with my work, and they were looking for an Atlanta-based writer to work with him. It needed to be a quick turnaround. We had six weeks to get it done, and I was here in Atlanta. I got asked to go in and speak with him and we hit it off. I got hired to write his book.
That's basically how it works.
I have the best agent on the planet, Victoria Sanders, who is an expert at pairing me with great celebrities who are looking for projects.
You seem to have the cooperative writing thing down pat. What are some elements to working closely on a writing project with the least amount of drama or creative conflict? 
[Laughs] I don't know what that looks like.
It's really crucial that the person who's writing the book trusts me. It's extremely difficult to walk into a project with someone who doesn't trust that you can deliver.
There's nothing worse than working with someone who doesn't trust you to do your job. And that's whatever you're doing. You could be bagging groceries at Kroger. If someone doesn't trust you not to put the eggs underneath the milk, they're going to give you a hard time for it.
I also need my co-author to understand and respect the schedule. The one thing I'm a stickler for is deadlines: a) because I get hired because I respect deadlines and b) because I need to finish this project, because I may have two more lined up. So I need to stick to my own deadlines for my edification, for my own work, so my family can eat and I can keep my paychecks coming.
Those two are my biggest things.
What changed about your career once you wrote your first book? How did it use your talent differently than journalism did?
I published my first book in 1997. It was a total fluke. The book was called The Sistahs' Rules. It was sort of the African-American answer to this book called The Rules.
It was a relationship book by these two women who were on Oprah like every other week, it seemed, and talked about how to go back to Old School Relationship 101 where you bash a guy over his head and convince him that he should marry you by playing all of these little, silly games.
I wrote a feature story for the Daily News about how "the rules" would never work for black women, because black men would never go for them. My editor and the graphic designer created this mock book for the illustration and it said Rules for the Sisters: Can Black Women Find True Love? by Denene Millner.
I got a call from an agent the day that it appeared in the newspaper asking me if I would do the black version of The Rules, and I had a book deal by like, 3:00 that afternoon and permission from Pete Hamill, my editor at the time, to take a month off to "write the hell out of that book."
MyBrownBaby.com has grown by leaps and bounds since it launched. Why was it important to create an online space specifically for African-American mothers?
My last job inside of an office was working at Parenting. I loved what the magazine did, but I just found that the brand didn't necessarily speak to black mothers.
When I moved to Atlanta, they gave me a column called "Reality Check," and every month I would give advice on parenting ethics and etiquette. But during the 2008 election, there was a conversation about Bristol Palin, and I just remember getting the impression from newspapers and websites that we weren't supposed to talk about her decision to have a baby or her getting pregnant.
I just felt like, you know what? This is not the conversation that my black mom friends and I are having. As a matter of fact, we're all walking around saying if that was Sasha or Malia who wound up knocked up during the presidential election, they would've buried Obama under the bus, under the White House, and the whole discussion would've been about the irresponsibility of black women, teenagers, the high rate of single motherhood in our communities.
It would've been about irresponsibility or our aversion to protection.
So I said, "Since nobody else is going to say it, I'll go on ahead and say it. I wrote something basically to that effect and emailed it to all of my friends and said, "I managed to set up a blog on Blogger. You need to read it and leave comments." It felt good to me.
I got to write from a very specific black mom perspective in a way that you won't find anywhere else. It was a huge hit right off of the bat, because nobody was talking about what it means to raise black children in America and what it means to constantly be thrown under the bus when we're talking about black mothers but never being invited to the conversation.
You're also a social media strategist. How did you market your unique understanding of African-American moms to create those opportunities?
If you want to talk to black moms, My Brown Baby is where you're going to find that audience.
I did a campaign last year with Goodnights, which is a brand of nighttime training pants. If you're looking to speak to African-American mothers about teaching their children not to go to the bathroom in their bed, this is where you'll find them.
So the partnerships are obvious, but they're not easy to get. There are still those companies that think if they just work with the larger, white bloggers that they're going to kind of hit some black folks.
And of course, they do, because just because you're an African-American mom doesn't mean you're not going to read a Babble.com or Parents.com or a Parenting.com. But you might not read it as religiously as you would a MyBrownBaby.com, because you know that you're going to get a very specific, Afrocentric perspective.
This interview has been edited for length and clarity.