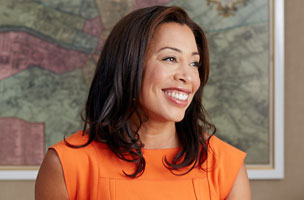 As the first woman of color to be the top editor at a Condé Nast publication—and someone who spent her early career in corporate law—Brides editor in chief Keija Minor knows a thing or two about breaking ground. "I left law because I was not passionate about it," she says. It turned out, publishing was the industry she was much more excited about. "I realized the part of law that I liked was working with these small creative media companies," she explains.
But the timing wasn't quite right. It was around 2001, and the dot-com bubble had burst, so "things got very sad in New York," she says. Here's how Minor followed her heart, overcame some early struggles (including a significant pay cut) and landed a top spot at one of the largest magazine publishers in the country.
---
Name: Keija Minor
Position: Editor in chief, Brides
Resume: Worked in corporate law for four years before landing an internship at startup magazine Travel Savvy, where she worked her way up to editor in chief after about three years. Next came a managing editor position at Niche Media's L.A. Confidential, followed by a promotion to editor of Gotham. She eventually left that role to assist in the launch of Uptown magazine's six regional editions. In 2012, she was promoted from executive editor of Brides to EIC.
Birthdate: April 24
Hometown: Washington, D.C.
Education: University of Massachusetts and Howard University School of Law
Marital status: Single
Media mentor: Anna Wintour
Best career advice received: If you love what you do, success will come.
Last book read: I just started Double Down, by Mark Halperin and John Heilemann
Guilty pleasure: Handbags and last-minute travel
Twitter handle: @keijaminor
---
How did you make the move from corporate law to magazines?
There is literally a book called What Can You Do With a Law Degree? that was sticking out on a shelf at Barnes & Noble, and I was like, "Oh my gosh, it's a sign!" So I decided basically by the end of year two [of my job as a lawyer] that I needed to look for something else, and then it took a year to save a year's worth of mortgage payments, with my theory being that I may be broke and not be able to eat, but I won't be homeless.
So I practiced for four years and then when I had a year's worth of mortgage payments, I quit. I flooded the industry with my resume and no one would hire me, largely because, well, I had no experience. And also because no one thought that I would go from having an assistant to basically being an assistant, except for this small travel magazine called Travel Savvy, which had just started. And I sent them my resume—this sounds so old school, but I sent it via fax and overnight delivery and then I think by messenger.
One of the founders [of the startup] called me and he was like, "All right, come in already. I've gotten your resume three times." And I went in and the only position they had was a lifestyle internship and I was like, "I'll take it!" And I actually started taking [women's magazine] classes at Mediabistro. Once I made up my mind that that's what I wanted to do, it was like this huge burden was lifted off my shoulders. I had five minutes of regret about two minutes after I left the firm.
I remember it netted out to being an 85 percent pay cut. And I remember my parents, when I said, "I got a job," they were like,
"What?" and I said, "Well, it's not really a job; it's an internship," and it was like crickets on the other line. And they were like, "Okay." What I didn't know until years later is that my father hung up the phone and turned to my mother and said, "I think we should clean out the basement; I think Keija's coming home." I didn't, of course.
No, you worked your way up to editor in chief! Then you moved on to Niche Media and later helped launch regional editions of Uptown, a luxury lifestyle magazine for African Americans. Why was bridal your next step?
The opportunity came up at Condé Nast, and it's a situation where people were like, "Why would you want to go from being an editor in chief to an executive editor?" and it was because of the opportunity to work at Condé. At first I was like, okay, I haven't worked in bridal, and what I found even just going through the interview process and doing my edit test is that I fell in love with the category, and then became obsessed, because it really is the ultimate women's magazine.
It's food, travel, fashion, beauty, entertaining; it's like every single one of those elements that I had worked on in a different capacity, whether at Gotham or at Uptown or even at Travel Savvy. It was all coming together at Brides. So I became executive editor here, and on my one-year anniversary I became editor in chief.
And you're the first African American to hold a top title at a Condé Nast publication. Is that something you think about?
I think the industry has been changing generally just over the years, as all of corporate America has been changing, to some degree, to reflect more women and more diversity. I think with the title at Condé, you know, it's fun to be the first. It's exciting to be the first in any sort of category, and it's an honor. But I don't wake up every day thinking, "Okay, you're the first black woman to hold this title." I think about, "What are you going to do to move the magazine forward?" At the end of the day, yes, I will have been the first, but I also want to be the woman who knocks it out of the park as an editor.
But I mean certainly for someone like my grandmother, who has seen women and black folks come so far in her lifetime, it was nice to talk to her about it. And she did take the announcement into her water aerobics class. [laughs]
We've all heard about Anna Wintour's relatively new role as artistic director at Condé. Has she provided you with any input?
It's been fantastic for me just to have someone to be able to bounce ideas off of. The woman embodies editorial excellence. Just being able to call her and ask her thoughts on things has been tremendously helpful. I mean she really is a champion of editors and editorial principles, and it's nice to have that.
So then you find her approachable?
She is actually very easy to talk to. Once you know her. I know, you see her… at a fashion show in the front row in her sunglasses, and I know that maybe people assume that she's one way, but she's actually… quite approachable. And she's really funny, too. I think she's very clear in her vision, and I just find that inspiring.
But she's got another 18 brands in this building so I'm sure that her relationship with every editor is different. I think she's great as a sounding board. If I ask about a photographer [for a cover shoot]… it seems like she knows every person in the industry, from photographers to designers, their strengths. She's great at bringing people together.
So what is your vision for Brides?
My biggest goal with Brides is I want to stay true to the core brand. I mean, the magazine is 79 years old. But I also want to make sure that it stays modern and current and speaks to our girls, and as their best friend, not as their mother. We want to be an updated, fresh version of what this brand stands for. So that's really important to me, that we're speaking to them in a contemporary voice.
What advice do you have for freelancers interested in pitching the magazine?
The best way [to pitch] is via email, and in a way that shows why you are the person to write this piece. And it really needs to be for a specific section. The pitch that I get often that's hard to work with is, "I recently went to Jamaica and would love to write something for you," or "I really love bridal and would love to write for you." As opposed to giving us a specific story idea and explaining why you're the best person to write it.
One of the sections that we've added in the last year is the front-of-book essay. It's a fun section and anyone who has a first-person interesting-marriage or relationship or wedding-planning story should definitely consider pitching for that section. In the issue that's out now, it's about a couple who had a secret wedding first, so by the time they had their public wedding for all their friends and family, they were actually already married. And we've had another essay about a girl's journey to find her dress. So that's a great opportunity for a freelancer. Those are all written out of house.
This interview has been edited for length and clarity.