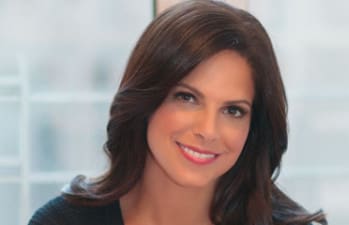 Significant news stories aren't necessarily guaranteed a space in the annals of public memory — they're emblazoned there by gifted reporters.
Soledad O'Brien is one of those journalistic storytellers who uses human interest pieces to thread us together by commonalities.
Flanked by passion and a self-proclaimed love of learning, she's been on the frontlines of the biggest news events for 25 years and has given us insight into some of our most under-reported communities.
In June, she launched Starfish Media Group, a multiplatform company dedicated to uncovering and producing empowering stories and cultivating talent, production and distribution deals with major partners, including HBO, Al Jazeera America and CNN.
The many faces of Soledad make her a media chameleon. Soledad the anchor for HBO's Real Sports. Soledad the CNN reporter. Soledad the face of the Black in America and Latino in America series. Indeed, she's all of those things and more. Here, she talks teaching, business building and literally making the news.
---
Name: Soledad O'Brien
Position: Founder and CEO, Starfish Media Group
Resume: Launched career in 1987 as associate producer and news writer at WBZ-TV in Boston. Left to work at NBC News as producer for Nightly News and Weekend Today. Started at MSNBC in 1996; started reporting for Nightly News a year later. Anchored Weekend Today. Transitioned to CNN in 2003 as co-anchor of American Morning. Won Peabody Awards for coverage of Hurricane Katrina and BP oil spill, an Alfred I duPont-Columbia University Award for her coverage of the South Asian tsunami and Emmys for coverage of Haiti, 2012 election and "Kids on Race." Founded Starfish Media Group in June 2013 as CEO. Serves as distinguished visiting fellow at Harvard University. Authored two books: Latino in America and The Next Big Story: My Journey Through the Land of Possibilities.
Birthday: September 19, 1966
Hometown: St. James, N.Y.
Education: Bachelor's degree from Harvard
Marital status: Married
Media idol: Nick Cannon. "His philosophy is very similar to mine, which is to exist across many platforms and do everything with excitement and enthusiasm… I think that there's something in his philosophy on how he's running his company that makes a lot of sense."
Favorite TV shows: Newsroom, Breaking Bad and Scandal
Guilty pleasure: Gummy bears (or worms or fish) and other sugary snacks
Last book read: A Marker to Measure Drift by Alexander Maksik
Twitter handle: @Soledad_OBrien
---
What skills are you using as the head of a media company that you didn't or couldn't as a journalist? How did you know you possessed them in the first place?
I definitely manage more people. I was a reporter, which meant I was a producer in the field. Now that I'm running a company, I'm running it on all fronts: payroll, making money, staffing. Those are things I never did as a reporter, but that's the basis of running an organization.
That said, I think you pick up a lot of those skills from motherhood. You manage a lot when you're a parent. You keep everyone on track and figure out who's happy and are they in the right spot and what needs to be done for each child. I learned a ton about how you keep the train running smoothly by having four kids. There's a lot of overlap in those people-management skills.
You've said that Starfish Media Group allows you to explore topics that you care deeply about. How would a broader adoption of that model affect journalism as a whole?
In a way, I think what you're seeing already among viewers is that exact model. People are interested in things not necessarily covered by the mainstream media, so they download things online. The categories are growing because people find out that they're not able to get information about stories that are of interest to them on the evening news. So I think that's already in place and it's only going to become more so.
I'm amazed at the degree to which people are interested in the documentaries that we've done. I flew out yesterday and sat next to a guy who only wanted to talk about the documentary I did, Gay in America. That's been years ago. I gave a speech about Latino in America to a bunch of college students.
I think that there's a sense of "I have a story to tell" or "I would like to see my story reflected" somewhere, especially in a nation that's more and more demographically diverse.
What would the field look like if journalists could spend the bulk of their time reporting on their areas of passion? How would that translate to the information and the consumers of that information?
I'll give you an example. Let's talk about a "shut down the government" story. Most channels are going to be sitting in D.C. going back and forth like, "Here's John Boehner and the president." That's really going to be your coverage, as if the entire world revolves around Washington. As much as they can shut down the government, the impact is not going to be felt solely there. You could tell that story through the communities that are going to be affected. I think that right there, if you told it that way, you could really change the debate that's going on in the news.
Stories, as we're taught in journalism school early on, are told through people. Those stories make our documentaries powerful. You can explore someone's culture, you can explore their experience, you can explore an issue through human beings who are going through it.
It opens up all of these doors to think about it, talk about it, explore it, experience it. A lot of times I just don't see that as being the case.
When the announcement was handed down that Starfish Media Group will be partnering with Al Jazeera, the news was met with some criticism. Despite the patriotic grumblings, what do you think American news outlets can learn from their brand of storytelling and news delivery?
I think every news organization can learn from another news organization that's doing it well. We've been doing some pieces for Al Jazeera — I'm a special correspondent for their America Tonight show — and I think they've done a really good job of pushing for a more nuanced approach and storytelling through human beings. I've been impressed that they've wanted to focus on the story and digging into the truth.
My most recent one took a look at the money that filtered through Haitians having very different experiences trying to rebuild their lives. I think that's the way to tell those stories, not through Congress people who will be yelling back and forth when they do a hearing on Haiti in a month and a half. So I think Al Jazeera TV has to grow an audience and get carriage, but I think the work that they're doing is quality.
What qualities do you look for in partner networks and opportunities? You seem to have embraced quite a variety.
People who do what they say they're going to do, first and foremost. The world is just full of people who are bullshitters. The nice thing about getting older is that you start to see through those who are all talk and no action.
We're busy. We have a lot of pieces to produce and docs to work on. I only want to be surrounded by people who also want to get busy and work and have ideas and stories that they genuinely want to bring to fruition.
I'm also not interested in people who want to complain. My mom used to say, "You get to complain for 24 hours and then let's go." You need to offload those people and take on others who are really enthusiastic. Being an entrepreneur is a mindset. You have to see things as opportunities all the time. I like to do interviews. I like to push people on certain topics. I like to dig into the stories where there's not necessarily a right or wrong answer.
We don't end our stories with: "There, we've solved racism. Thanks for joining us." My partners and I are interested in quality journalism and digging into tough-as-nails conversations.
What's the most important takeaway you want all viewers to get from the stories of people of color?
That the world is very wide and that, if you dig a little deeper, every community has lots of stories to tell and issues to debate — not just the two or three or four that you might see on the news. They're very nuanced and complicated and important. People are already having conversations about them in their communities and if you covered that community, you would know this.
Now you're a Distinguished Visiting Fellow teaching a class at Harvard's School of Education. What do you want to prepare them to do specifically?
As much as I hate saying it, the cliché about life being a journey is true. When you allow it to be, you get to enjoy it a lot more. I think a lot of these students — and me too, probably — like to know, "Why?" Young people just want an answer. "What should I be studying? What will make me happy? Will there will be jobs in 10 years?" I say, "I don't know. Figure out your passion."
In a commencement speech at Harvard earlier this year, you told grads not to "listen to others people's take on the life you should lead" because "by not listening, you can figure out what your heart is telling you to do." Can you give an example of when you had to follow your own advice?
Oh my gosh. I have to follow it all the time. When I was leaving NBC News to go to CNN, people would say, "What?! Why would you possibly leave the Today Show to go to cable?" If I would've listened to people, I would've been on a great platform but I wouldn't have grown as a journalist. So far, most of the steps in my career have been really good.
When I was at CNN, the opportunity to do the morning show, Starting Point, came up. I had done a morning show before. It's grueling hours. And people were like, "Do you really want to do this again?" I thought, "Well it's an interesting time. It'll be an election year." I would say modestly that a lot of the big political news made that year was done on my show. We really had impact. That's what you want to be able to do. It's less about the situation and more about how you're handling it.
Even when I started Starfish Media Group, there were a number of people who were sort of perplexed: "What are you doing? Who are you working for?" It's not a model that other people really do and I have been amazed at the huge opportunities we've had.
My biggest challenge has been so many things coming to us that are not TV news, which is really my comfort zone. I do news. I do documentaries. There are so many interesting projects that you constantly have to start thinking outside the box and say, "Well, maybe I should be working on a movie. Maybe I should be helping someone write a screenplay. Maybe I should be doing fiction." I just never realized that beyond TV news, which I love, and doing documentaries, which I love, there's this whole tremendous amount of content that people are interested in either creating or funding or underwriting or finding out how to distribute. That's been fascinating for me.
This interview has been edited for length and clarity.