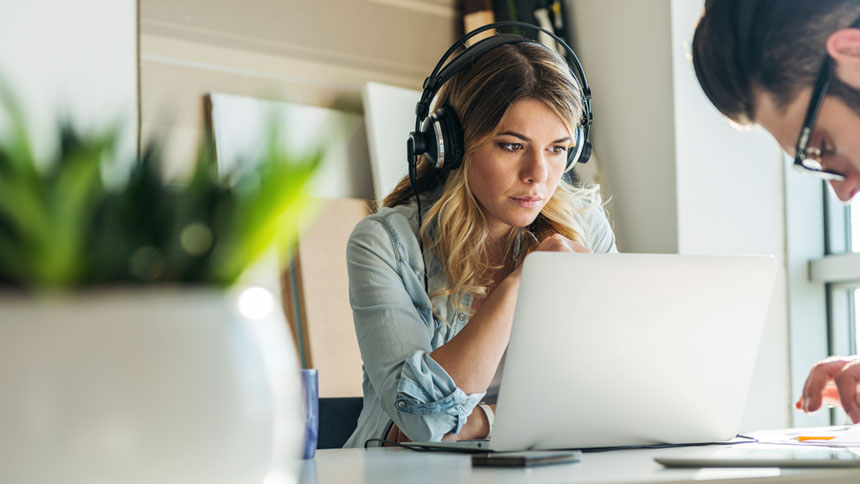 Podcasts are everywhere, and according to Pew Research they're more than just a passing trend; the number of Americans who listen to podcasts has doubled in recent years.
These downloadable audio files entertain listeners with everything from stories of true crime to the marvels of science. But podcasts can also be great resources for valuable insights to increase your knowledge as a new marketer.
Start building your playlist with a few of these must-listen marketing podcasts.
1. The #AskGaryVee Podcast
This podcast is an extension of author, investor and popular high-energy public speaker Gary Vaynerchuk's YouTube show. The premise is simple: You ask questions about marketing, Vaynerchuk answers them in his trademark off-the-cuff manner.
Length: Most shows are less than 30 minutes
Frequency: Once or twice weekly
View the #AskGaryVee Podcast Page
2. Call to Action Podcast
The Call to Action Podcast focuses on digital marketing. Topics include copywriting, design, social media, email marketing, lead generation, pay-per-click advertising, and, yes, calls to action, those clever words and phrases that get us to click.
Length: Most shows are less than 30 minutes
Frequency: Every Wednesday
View the Call to Action Podcast Page
3. Confessions of a Pink-Haired Marketer
Sonia Simone, Copyblogger's chief content officer, believes in being true to yourself and real with others. Add the word "marketing" in there and you've got her weekly podcast. If you're looking for career tips, motivation and someone to sort the best marketing insights from the you-know-what, then this is the show for you.
Length: 20 minutes
Frequency: Every Monday
View the Confessions of a Pink-Haired Marketer Podcast Page
4. Hit Publish
Host Amy Harrison is a full-time content marketer and part-time bluegrass singer. Her podcast, Hit Publish, is dedicated to educating new and intermediate marketing professionals on all things digital marketing—from ethics and etiquette to tried-and-true tricks of the trade.
Length: 15-20 minutes
Frequency: Every Monday
View the Hit Publish Podcast Page
5. Content Inc.
Content Marketing Institute founder Joe Pulizzi packs a lot of insight into his weekly snack-size podcast, Content Inc. Each episode comes packed with plenty of Pulizzi's passion for content marketing and at least one actionable takeaway.
Length: 5 minutes
Frequency: Every Monday
View the Content Inc. Podcast Page
6. Marketing Over Coffee
Hosts John J. Wall and Christopher S. Penn get together in an actual coffee shop each week to discuss trends in traditional and new marketing, including how to get better leads from trade shows and tips for using virtual reality and 360-degree video.
Length: 20 minutes
Frequency: Every Thursday
View the Marketing Over Coffee Podcast Page
7. The Social Media Examiner Show
The Social Media Examiner Show offers tips on how to navigate the ever-changing social media landscape. You'll get the latest updates on the major platforms, including how to use Snapchat optimize Facebook ads, manage a LinkedIn company page, increase engagement on Instagram and, well, you get the picture.
Length: 10 minutes
Frequency: Daily, Monday through Friday
View the Social Media Examiner Show Podcast Page