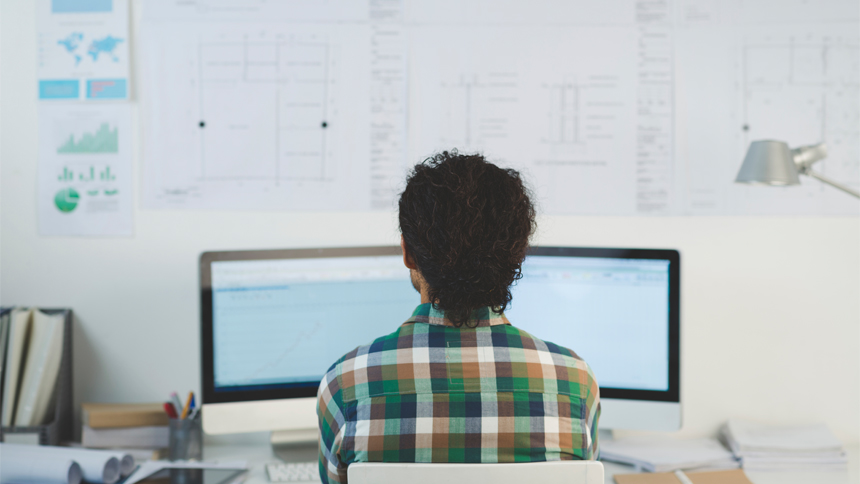 If you're looking to put your design sensibilities and technological savvy to good use, securing a job as a web designer may be just what the doctor ordered. We talked to those in the know and got the scoop. Say adios to being bored at work.
What exactly does a web designer do?

These visual architects are responsible for the overall awesomeness of a website's look—its layout, colors, fonts, icons, buttons, the whole shebang. Although not always required, many web designers have mad coding skills too, so they not only come up with a design, they use a programming language, such as CSS, Ruby, SQL, Python or ASP to implement it. Designers often know several languages or some varying combination of them.
"Having a wide skill set is critical in the industry," says Brett Hartmann, founder of and lead web developer at Bitcookie, a web design and Internet-marketing agency. "[At a design agency], often that means a combination of either code and design, design and marketing or design and project management."
What skills do you need?

Obviously, you need a good design eye and an understanding of layout, hierarchy, color theory, typography and web font. A strong grasp of UX/UI design foundations is also important. It helps you create a seamless design that smoothly guides users through a site without them getting frustrated.
You should also have good instincts, adds UX designer Tamara Wiesen, product designer at FeeX, a financial services startup that helps people save money. Trusting your instincts will help you navigate new terrain.
And be adaptable, says Hartmann. "Technology changes rapidly, and being able to flow with it smoothly is often more important than being the best designer in town."
Who is a web designer's boss?
A freelance designer typically reports directly to the clients. If a designer's at a larger company, a project manager or an art, UX or design director may call the shots. At a smaller agency, the boss might be the owner, if he chooses to oversee each project.
Are there other titles with similar responsibilities?
Many companies do not have designated web designer positions, but they expect those with "design" in their title—UX and UI designers, graphic designers, product designers and front-end designers—to have a web background, says Adriana Marin, former shutterstock.com design director turned freelance art director. "In today's landscape, every designer has to be a web designer and be mindful of the user's overall experience."
What do I need to get ahead in this position?

Simple: Work hard and stay abreast of the latest design news and trends. Oh, and don't succumb to designers' block (push through it!) or negative feedback (everyone's a critic).
How can I get my foot in the door?

You're off to the races with a degree in graphic design or classes in UX, UI, HTML, CSS and Javascript under your belt, but some agencies are more about experience garnered from personal projects. "Personal interest in design work often represents the drive to learn and create," says Hartmann, "which is what makes [the] perfect designer."
Get your feet wet by designing websites for your friends and their friends. Then show and prove: Demo several commissioned projects or mockups for potential employers, and let them know how you addressed any problems encountered along the way. With the ability to design, code and nip pesky problems in the bud, the question is no longer who'll hire you, it's who wouldn't.
Looking to land a job in web design? Check out Mediabistro's job boards, where top companies are constantly searching for top talent.