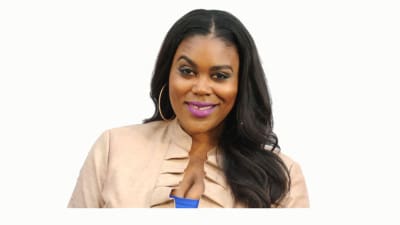 Television has been in Nina Parker's blood from an early age.
"I remember getting a cardboard box and making a TV, cutting it out and getting in it," Parker said of her childhood. "I was obsessed with [book and cartoon show] The Littles, because I really believed as a kid that there were people in the TV."
Fast-forward 20 years later and Parker found her way inside the television as a regular on the syndicated nightly entertainment news show TMZ after chucking her corporate gig and moving to Los Angeles on a whim; she graduated to The Insider. And, while entertainment outlets like TMZ are often criticized for reporting every bit of celebrity TMI, Parker said even the most tenacious newshound has to draw the line somewhere.
"If someone is dating someone and they're out and about, that's OK," she explained, "but I think when you start to get in people's bedrooms and is this person dating this person and who are they sleeping with, that's a little too much for me."
---
Name: Nina Parker
Position: Television reporter for Access Hollywood Live.
Resume: Started in 1999 as an intern at NBC affiliate KRON in San Francisco before eventually getting hired as a production assistant in 2000. Left for New York in 2002 and returned to California in 2003, working a regular 9-to-5 job at Verizon in Sacramento for four years. Hired by TMZ as a runner in 2007 and was promoted to producer four months later. Joined The Insider in September 2011. Currently works as a TV reporter on Access Hollywood Live. 
Birthday: October 22
Hometown: Sacramento, Calif.
Education: B.A., broadcast and electronic communication arts, San Francisco State University
Marital status: Single
Media idol: Oprah Winfrey
Favorite TV show: True Blood
Guilty pleasure: Shopping at the 99 Cents Only store
Last book read: Fifty Shades of Grey by E.L. James. "If I'm going to make fun of something, I need to know the background."
Twitter handle: @MzGossipGirl
---
You quietly departed TMZ in 2011. How would you sum up your time at the website?
Great. It was very hectic, grueling. Before I got there, I had never worked that hard in my life. I was literally at times sleeping in my car and then just going to work. My first big assignment there was to sleep outside the jail and wait for Paris Hilton to get out, and come back with the tape from the photographer. That was a shell shock coming from taking a break in the industry to getting tossed in the fire.
That's really how I learned.
It was very much sink or swim, and I saw a group of people that I started with all fall at the wayside because they couldn't handle it. For me, it felt like it was my last chance. I was in my late 20s, I wasn't fresh out of college and I was like, "If I don't do this, I'm not going to do it." I just committed to it. I learned a lot, probably more than the average person would, because we all grew together because it was a new company. We were creating positions as we went along and learning about it and growing with how the world was changing and how technology was changing.
Kiri Blakeley of Forbes wrote a piece in 2011 about the boys club of TMZ and how the women on the show don't get equal camera time. How much truth is there to that?
I think sometimes things happen unintentionally and sometimes people cultivate together and don't realize that they're doing that. I would say, for me, I feel like I personally didn't have those barriers. I felt like they gave me a lot of opportunity. They gave me a lot of camera time. They were very willing to work with me when I decided I wanted to try something new.
I think in the industry it can be a boys club, and you have to really try to work hard to break that glass ceiling. I think I did that and, once they saw how I hard I wanted to work, they gave me any opportunity I wanted. I do think the industry in general can be very much of a boys club but I do think that's changing.
Do you think the paparazzi get a bad rap from the mainstream media?
Yeah, I do, because I think everybody covers the story. The Kristen Stewart photos that are out now, those were photographed by a paparazzi, and they are on every local news channel, every entertainment show. People can say this photographer was so wrong, but their agency buys the photos. It's all a machine and nothing would happen if it wasn't profitable.
I think they get a bad rap, and I think people use the paparazzi sometimes as a scapegoat to hide their hands from what they put into that pot. I like that some of these guys are unapologetic about what they do, and I think more people should be real about what they're doing as opposed to saying, "We don't do this." We all have our hands in it, and that's why it's taken the direction it has.
What tricks have you used to develop your sources within the entertainment industry?
I don't know if I want to tell my tricks. It's hard. I don't even know where I would start now that I've cultivated some of these relationships that I have. For me, what I've always tried to do personally is be 100 percent honest with the people that I'm dealing with. So, if I say I want to shoot this because this is how I'm going to portray you, I try to 100 percent stick to that, so when they see it they know exactly what they're getting, and I'm not hiding anything.
If I call somebody or a rep about a DUI or about an arrest, I'm telling them I'm reporting this, but I'm going to give you an opportunity to give your side. I think a lot of times people report things and they don't give two sides to the story. I always just try to give both sides. I've had so many people appreciate me just calling to get a statement, because so many people will just post stuff and not bother to get a statement.
You once said in an interview that your curvy figure has helped you connect with people in Hollywood. How so?
I just think people are so used to one type of person on television. When I first moved to L.A. and the weather girls looked like Playboybunnies, I was like, "I can't even watch the news without L.A. making me feel bad about how I look." Sometimes, I didn't connect with that as a viewer. I'm sitting here with my girls in my living room eating pizza, and I don't want to watch this skinny girl talk about anything. I'm going to change the channel.
For me, a lot of the responses I got on Twitter from women was, "Finally, there's a woman that looks like me." What I would talk about on TV is the issues that I had, like I couldn't go into Forever 21 and go ahead and buy a tank top. I would joke about the issues that I had, and I think we as women and people all have those kind of issues, whether you're big or small. You have these real issues, but people hide them and people don't want to talk about it. You gloss over it. I was kind of able to be a bit vulnerable on television, and I think people related to that because it was just what we all go through.
With the influx of celebrity and gossip blogs on the Internet, how can an up-and-comer stand out from the competition?
I think what makes people break out is when they are 100 percent true to who they are. The people I follow, the people I enjoy on Twitter and Tumblr, are the people that are 100 percent themselves. They might not even have a huge following, but they're funny, intelligent and not trying to be someone else. That's really transparent.
I think when someone is attempting to be funny or when someone is attempting to be snarky, it's always so transparent. It turns me off. In the online world, it's really imperative to be 100 percent who you are. If you're a girly girl, go for that. Stay in your lane. You aren't going to ever see me report on sports unless the star gets a DUI. You aren't going to ever see me report on something I'm not comfortable with.
Reality shows, like Basketball Wives and Shahs of Sunset, are often criticized for marginalizing people of color. Do you think networks like VH1 and Bravo have a social responsibility to feature niche groups and minorities in a positive, non-stereotypical light?
I don't think the networks have an obligation to society in the sense where programming is concerned. I think we create what's popular, so we have a responsibility to ourselves… The show Baseball Wives came and went. It wasn't interesting. Nobody watched it and it went away and nobody ever heard of it again. The same people writing these petitions are the same people who tune in and watch these shows. If we really want to have the programming changed, public opinion has to change because we're the ones creating the standard.
We're the ones creating the trends by letting these people trend five out of 10 topics on Twitter. VH1 pays attention to that. It wasn't always like that. If we wanted more "Pop-Up Video," they probably would do it. It's kind of our responsibility and, since we are such a social society, we could do it. We could make that change quickly, I believe. But numbers don't lie and these networks… people are being delusional if they don't think these networks are trying to make money. That's what it's about.
This interview has been edited for length and clarity.