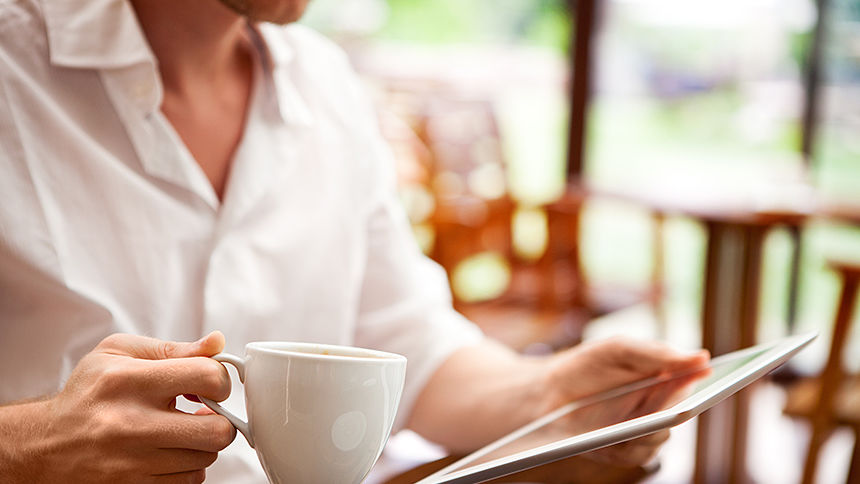 It's easy to let your job search—or plain old self improvement—slide during the workweek. With the weekend fast upon us, now's the chance to get up to speed with all the latest Mediabistro coverage. You know: in case you missed it.
From tips for new college grads just starting out in the workplace to information on professions that might make mid-career pros make the switch, we've got vital intel on job searching and career management you can easily polish off over a weekend morning cup of joe.
1. Launching Your Career After College: This recap of our Twitter chat with the Intern Queen Lauren Berger has sound, actionable work advice for new grads.
2. Prep For Your Interview—Even When There's Not One on the Horizon: Because you just never know when opportunity is going to knock, here's how you can hit the ground running when you (finally!) get a call for an interview.
3. Keep These Words Off Your Resume: Find out what over-used words to delete from your resume, and what action words that tell a story about what you've achieved to use instead.
4. What Does an Event Planner Do?: It's not all champagne, flowers and DJs in this super-demanding but super-cool job.
5. 5 Pieces of Expert Advice From Marketers You Can't Ignore: If you're new to marketing—or even if you're a marketing vet—you're sure to learn something from these pearls of wisdom from these experts.
6. 7 Reasons to Follow Mediabistro on Instagram: Psst! We're on Instagram! In case you need excuses to follow us on our favorite visual social media channel, here are a solid seven.
7. Convince Your Employer to Let You Work From Home: Don't let a distant commute scare you off applying for a job. Here's how to swing a work-from-home gig.
8. Ace the Interview With a Little Help From a Friend: Because practice makes perfect, here's how to ready yourself for meeting your prospective new boss by having a friend walk you through a mock interview.
9. Read This Before You Look Up Your Job Applicant Online: Recruiters and hiring managers: Here's what you need to know about checking out candidates on social media—and avoiding liability.
10. How to Know If That Job Posting Is a Scam: Here are the common signs that the job you're applying to might not be legit.
11. A Newbie's Guide to Managing Interns: If you're new to managing interns, here's how to have them lighten your load, and teach them valuable skills that will help them land a job one day.
12. How to Break Into Foreign Affairs Writing: Got a passion for world news, and a yen for foreign policy? Learn how to start a career writing about international affairs.
13. 6 Brands Killing It on Social Media: Here are great social media campaign ideas and lessons you can use to up your own marketing game.
14. Do Your Research—Fast—and Still Wow Your Interviewer: You already know you've got to do your research before your interview. Here's how to do it quickly, and still impress your future boss.
15. What Hiring Managers Want to See: These are the skills you've got to nail if you want to impress your potential new boss.
16. Our Top 10 Journalism Advice Stories: Read a quick rundown on the practical advice—about getting work and getting paid—that our audience of freelancers loves.
17. "How I Found a Job Using Social Media": Sure, you've heard you need to up your online presence, and work your social media profile, to land a job. Here's how one marketing pro did it.
18. How to Sell Yourself Fast With an Elevator Pitch: Take a quick course on getting to the point and impress your interviewer with an abridged personal story.
19. What Does an Account Manager Do?: The liaison between an agency and its clients, an account manager knows how to get the job done. Here's what you need to know about this pivotal role.
20. 7 Must-Listen Podcasts for New Marketers: These are the audio files you'll want to download to get your media and marketing skills on point.
21. What You Should Add (and Remove) From Your Social Media Presence: If you want your social media accounts to say "hire me," deleting the party pics is just the start. Here's what else you need to do.
22. 4 Simple Ways to Jumpstart Your Summer Job Search: The weather's warming up, but that's no excuse to put your search for a new job on hiatus. These tips will help you get a new gig before Labor Day.
23. Learn a New Skill—Fast—to Make Yourself Instantly More Hireable: Gain a new skill to keep atop industry trends, and show hiring managers you're the one that they want.
24. Why No One Is Applying to Your Job Listing: Employers: Is your carefully crafted want ad not bringing in the candidates? Here's why—and what you can do about it.
25. 4 Groups That Will Help You Work Your Network: If you think "networking" is a dirty word, these organizations can help you get over your fear, and go to the next level in your career.
26. Why Hiring a Professional Resume Writer Is Worth It: Is your resume not landing you any interviews? Learn why hiring a pro can put an end to your dry spell.
27. 8 Ways to Succeed at an Editorial Internship: You've got your foot in the door; now start climbing the ladder.
28. 10 Instagram Posts That Understand the Young Professional Struggle Is Real: Nothing in college teaches you how to hold a job, pay your rent and balance your checkbook. These IG posts feel your pain.
29. Set Up a Schedule to Keep Your Job Search on Track: Keep up your job search momentum with this easy-to-follow schedule of daily, weekly and monthly tasks.
30. "Why Are You Looking for a New Job?": It's one of the most common interview questions, and an easy invitation to trash-talking your current gig. Here's what to do instead.
31. What Does a Video Producer Do?: In a world that's always chasing the next viral clip, video producers are increasingly in demand. Find out what it takes to land this gig that requires creativity, and business and people skills.
32. 6 Ways to Beat the Summer Slowdown With Content: The seasonal slump doesn't have to make your blog and social media presence suffer. Keep your content and posts fresh with these ideas.
33. The 4 Most Common Resume Questions, Answered: Everyone has an opinion on what a resume should have. Read the best answers to the most common resume questions.
34. 5 Ways to Sharpen Your Marketing Skills Online: The best marketing and media pros are constantly updating their skill set. Follow their lead with these convenient, affordable online courses.